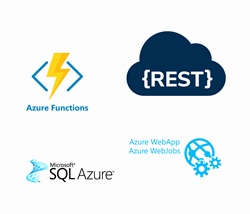 TORONTO (PRWEB) March 28, 2022
KWizCom, a leading global developer of SharePoint forms, all-in-one calendar, scan & OCR, as well as numerous other no-code Microsoft 365 apps and web parts designed to enhance Microsoft SharePoint, has announced the launch of its new product line Azure Web Apps. The first product in this new category is the Azure SQL Querying Service web app.
SQL Querying Services Azure web app empowers non-technical users to easily and quickly query their Azure SQL database from any custom application (including KWizCom Forms). There is no need for any installations or development skills.
Business users will be pleased to find out that they can securely connect to their Azure SQL database without any need for development knowledge or technical experience. Furthermore, depending on the needs and preferences, this web service provides both anonymous and authenticated (MSAL) access.
Many will be relieved to learn that there are no hidden costs or fees. Regardless of how many queries the client runs or how much data they retrieve, the annual charge remains the same.
As a bonus, users can easily display their SQL data in their modern SharePoint list forms in Microsoft 365 and Teams by using KWizCom Forms and Azure SQL Querying Service.
KWizCom Corporation provides Azure customization services to those interested in having their own custom Azure SQL Connector. The company's Professional Services team will develop the required custom Azure SQL connector, which will be installed in the client's Azure environment.
For more information on KWizCom's newly released Azure SQL Querying Service web app and to view its complete list of key features and benefits, please visit the product's webpage.
Follow KWizCom on Twitter @KWizCom
Join KWizCom on LinkedIn: https://www.linkedin.com/company/kwizcom
Contact a KWizCom Account Specialist at +1-905-370-0333/+1-855-KWIZCOM or info@kwizcom.com
About KWizCom Corporation
Since 2005, KWizCom has provided innovative solutions and services to make SharePoint even better for over 10,000 companies worldwide. KWizCom's solutions and services expand Microsoft SharePoint out-of-the-box capabilities, streamline workflow, maximize efficiency and enhance over-all productivity for hundreds of thousands of users. KWizCom, a Certified Microsoft Partner, is headquartered in Mississauga, Canada. Please visit http://www.kwizcom.com to find out more about KWizCom's clients, people, partners and solutions.
Check out KWizCom's popular SharePoint and Microsoft 365 blog page to expand your knowledge on SharePoint platform and how to best use, communication site vs team site, how to create great-looking SharePoint dashboards the right way, delete SharePoint sites or manage the recycle bin and many other informative blog articles.