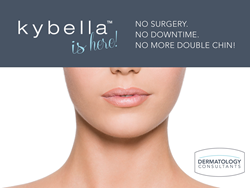 We are among only a handful of dermatologists in the country chosen by Kybella to be trained to administer the product safely.
Atlanta, Georgia (PRWEB) August 19, 2015
Dermatology Consultants, the metro Atlanta practice led by nine board-certified dermatologists, is among the very first to be chosen to offer the new FDA-approved double-chin removal injectable Kybella.
"As the first non-surgical, FDA-approved, double-chin elimination product on the market, Kybella is a breakthrough product and we are proud to be among the first in not only the Atlanta area, but the entire country to offer it," said Dr. Michelle Juneau. "Prior to the release of Kybella, under chin fat deposits could only be removed by surgery or liposuction, now we are able to offer non-invasive injectable treatments over the course of a few months with little to no recovery time as well as minimal swelling."
"We are honored to be among only a handful of dermatologists chosen by Kybella to be trained to administer the product safely and according to the manufacturer's guidelines. Only the trained board-certified physicians at Dermatology Consultants will perform treatments," added Dr. Anna Pare'.
Kybella is formulated using deoxycholic acid, a molecule that naturally occurs in the body and that aids in the breakdown and absorption of dietary fat. When it is injected into fat just below the skin's surface, it destroys fat cells. Those cells can no longer store or accumulate fat, and eventually the body naturally flushes them away.
At Dermatology Consultants, Kybella treatments are customized to address each patient's specific needs. Each treatment session may include between 20 and 50 injections, which are made after precise locations are marked on a patient's neck. A more refined chin may be noticeable after 2 to 4 treatments, which each last about 15 to 20 minutes. Sessions are performed at least 30 days apart, and up to 6 treatment sessions may be needed to get the optimal results.
According to Kybella, the most common side effects are swelling, bruising, pain, numbness, redness and formation of areas of hardness in the treatment area. In clinical trials, the incidence and severity of most side effects decreased with subsequent Kybella treatments. Kybella can cause serious side effects, including trouble swallowing and nerve injury in the jaw that can cause an uneven smile or facial muscle weakness. Kybella has been the focus of a global clinical development program involving over 20 clinical studies with more than 2,600 patients worldwide, of which 1,600 have been treated with Kybella.
About Dermatology Consultants:
A full service dermatology practice, Dermatology Consultants has 9 board-certified dermatologists recognized and honored by many awards, organizations and publications. With three locations in Buckhead, Marietta and Covington, the dermatology practice has been a renowned Atlanta institution for over 75 years. To learn more about us, visit Dermatology Consultants at http://dermatologyconsultants.org and on Facebook at https://www.facebook.com/DermatologyConsultants
About KYBELLA™
KYBELLA is the first and only approved injectable drug for contouring moderate to severe submental fullness, a condition that is commonly referred to as a double chin. KYBELLA is a non-human and non-animal formulation of deoxycholic acid, a naturally occurring molecule in the body that aids in the breakdown and absorption of dietary fat. When injected into subcutaneous fat, KYBELLA causes the destruction of fat cells. Once destroyed, those cells cannot store or accumulate fat. KYBELLA (deoxycholic acid) injection is indicated for improvement in the appearance of moderate to severe convexity or fullness associated with submental fat in adults.
The safe and effective use of KYBELLA for the treatment of subcutaneous fat outside the submental region has not been established and is not recommended.