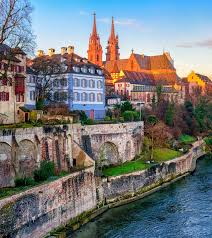 PRINCETON, N.J. (PRWEB) March 16, 2021
Alan Vanderborght, Founder and CEO of KYBORA, said: "The opening of KYBORA GmbH is the next phase in KYBORA's growth. With its inception, we aim to provide high quality M&A, licensing, fundraising, and strategic consulting services to the European pharma and biotech industry. Basel is the ideal location for our European headquarter. It has a renowned pharma environment and a vibrant biotech industry, with an ideal location at the crossroads of France and Germany, and gives us access to some of the brightest talents in these sectors. We look forward to continue providing quality services to our existing clients and to establishing long-term relationships with companies operating in the Basel area and in the rest of Europe. KYBORA GmbH will be managed by Jean Chatellier Ph.D., and experienced business and corporate development executive with a strong track record of transaction spanning two decades."
Dr. Jean Chatellier, Executive Vice President and, Managing Director and Member of the Board of Directors of KYBORA GmbH added: "I am thrilled to join KYBORA. I look forward to helping the Company to sustain its existing business and to further grow its European operations. The environment and the quality of our Board of Directors will allow us to accelerate and expand of our strategic transactions, fundraising and strategic consulting business in Europe."
The inception of KYBORA GmbH is part of the company's continuous expansion across all major Life Science markets in the United States and Europe and, in the near future Asia, the Middle East and Latin America.
About KYBORA – KYBORA is a global advisory firm whose mission is to help Life Sciences companies (Pharmaceutical/Biotech/MedTech) achieve enduring success by offering optimal M&A (buy/sell), licensing (in-/out), fundraising and strategic consulting services globally. Headquartered in Princeton (USA), KYBORA has also representatives in the USA (San Francisco and Miami), LATAM (Brazil, Colombia and Mexico), Europe (France, Germany, Spain and Switzerland), CIS-CEE (Hungary, Russia and Ukraine) and MENA-GCC (Saudi Arabia), and partners in Japan, China, India and, Argentina. Altogether, KYBORA offers the best combination of global reach and local knowledge. For more information, please visit https://kybora.com and follow us on LinkedIn at https://www.linkedin.com/company/kybora/.
KYBORA Contacts – Alan Vanderborght, Chief Executive Officer (alan@kybora.com - +1 609 970 4398) and Jean Chatellier, Executive Vice President and Managing Director (jean@kybora.com - +33 609 102 105).