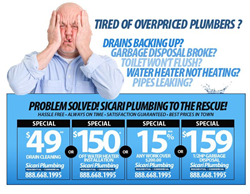 Sicari Plumbing is now offering summer specials including $49 drain cleanings. For the best La Canada Plumber call Sicari Plumbing at (888) 668-1995.
La Canada, Flintridge, CA (PRWEB) June 03, 2014
Sicari Plumbing, the leading La Canada/Flintridge plumber is now offering summer specials on their dependable flat rate plumbing services. Sicari's new summer specials include $49 drain cleanings and $150 discounts on hot water heater installations.
Unfortunately, most Pasadena plumbers don't set rates in advance and the cost of a simple procedure such as unclogging a drain can quickly sky rocket when the plumber is arbitrarily billing for everything short of him breathing. Those searching for a trustworthy Pasadena plumber need not search any farther than Sicari Plumbing. With Sicari's flat rate billing customers know in advance exactly how much a plumbing job will cost with absolutely no shock when it comes time to square up the final bill.
For homeowners looking for a plumber in Glendale, Burbank, Canoga, North Hollywood, Sherman Oaks, Saugus, Tarzana, Valencia, or Woodland Hills, the answer is simple: Sicari Plumbing at (888) 668-1995 or online at sicariplumbing.com.
"We have a staff of plumbers that take pride in their work," owner Joe Sicari said. "That means customers can only expect the best from us! When our plumbing technicians meet with them at their homes, they are willing to listen and offer advice. Our services are competitively priced for small and large jobs alike. We're skilled in all types of plumbing projects, from small plumbing repairs to large new construction and remodels."
Service appointments or inquiries can be made at (888) 668-1995 or on line at http://www.sicariplumbing.com.