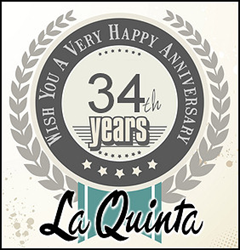 Here in La Quinta we have one of the most enviable lifestyles to be found anywhere.
La Quinta, CA (PRWEB) April 23, 2014
Brad Schmett, Broker Associate with Luxury Homes by Keller Williams today announced that the April 26, 2014, 32nd birthday celebration of the City of La Quinta will shine the spotlight squarely on a superb inventory of luxury homes in the area as attendees head to the Valley to celebrate the gala event.
Set to take place at the La Quinta Civic Center Park from 9 AM until 1 PM on Saturday, April 26, a Kids Fun Zone is planned with carnival games, prizes and inflatable activities along with vendor booths and an array of delicious free foods. The beautiful resort city is home to some of the most celebrated and award winning artists in the nation as well as many entertainment and sports celebrities and world-class golf courses.
Schmett commented recently, "Understandably, I am very proud of my hometown. Here in La Quinta we have one of the most enviable lifestyles to be found anywhere. Filled with beautiful neighborhoods, family-friendly amenities, unparalleled art and culture and home to some of the greatest golf courses ever built, there is just no better place to live. As we proudly celebrate our 32nd birthday I look forward to showing some of our incredible luxury homes to guests and attendees who are arriving to celebrate along with us. We have grown tremendously over the past three decades and we continue to set the bar for gracious living across the Coachella Valley."
This event is free to the public and open to all. With special accommodations available for the handicapped, and a comfortable venue, all ages are welcomed and encouraged to attend. La Quinta is one of the most popular cities in the Coachella Valley with fine dining, plenty of entertainment and superb accommodations.
To find out more about investing in La Quinta, CA real estate visit http://www.laquintarealestateinfo.com.
About Luxury Homes by Keller Williams: Luxury Homes by Keller Williams – La Quinta, is an exclusive, elite and sophisticated group of real estate consultants raising the bar for service in the La Quinta area residential real estate market.