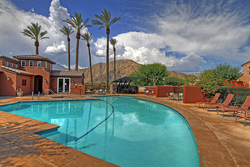 Codorniz is surrounded by million dollar estates and some of those most elite golfing in the Palm Springs area.
La Quinta (PRWEB) October 29, 2015
Brad Schmett, Broker Associate with Luxury Homes by Keller Williams today announced that the newest models of the luxurious patio homes boasting 1,655 square feet, are now open and selling quickly. The Verbena and Lantana models join Sage, Cassia and Cordia to form one of the most coveted addresses in the Coachella Valley at prices starting at an incredible $279,000. RJT Homes has one of the most prestigious reputations of any builder in Southern California and their homes are snapped-up quickly.
The two most recent models feature spacious living on dual levels with a loft area, bedrooms and laundry room on the same floor, accented by European balconies on the upper floor. The open floor plan of the ground floor is designed with a great room that opens to an elegant, private courtyard and sweeping views of the Santa Rosa Mountains. Gourmet kitchens are equipped with stainless steel appliances and a standalone kitchen island set under high ceilings for the optimum in gracious living.
Schmett recently discussed the Codorniz strategy, "Luxury patio homes in La Quinta at these prices are just unheard of. Codorniz is surrounded by million dollar estates and some of those most elite golfing in the Palm Springs area. RJT Homes has come up with a winning formula: lock it and leave convenience paired with pure luxury, and surrounded by quick access to every amenity anyone could possible want. It is easy to see why these homes simply don't sit on the market. They always sell quickly to both full-time and part-time residents."
Interest rates remain low, and buyer friendly financing packages are available for all Codorniz models, while they last. For additional information, contact Brad Schmett Real Estate Group at 47100 Washington Street, Suite 204 in La Quinta or call today at (760) 880-5845 for a private tour.
For more online information on luxurious Codorniz visit http://www.bradschmett.com/codorniz.
To find out more about investing in La Quinta, CA real estate visit laquintarealestateinfo.com.
About Luxury Homes by Keller Williams: Luxury Homes by Keller Williams – La Quinta, is an exclusive, elite and sophisticated group of real estate consultants raising the bar for service in the upper-tier La Quinta and Palm Springs area residential real estate market.