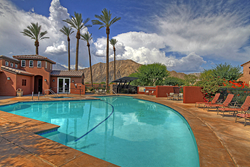 As 2016 gets underway, it is clear that affordable luxury housing is rare and getting harder to find.
La Quinta, CA (PRWEB) January 28, 2016
Brad Schmett, Broker Associate with Luxury Homes by Keller Williams today announced that the recent release of three Codorniz luxury patio homes, accompanied by a presale of seven more homes under construction over the holiday season, created a very brisk beginning for 2016. Builder RJT Homes anticipated the renewed demand for affordable luxury housing as well as an immediate response to homes released in December. They have prepared for the warm reception by buyers as the New Year gets underway.
The most popular models have proven to be the spacious Lantana and Verbena designs which boast well over 1,600 square feet and a light infused open floor plan. RJT Homes is famous for pride of craftsmanship and sumptuous amenities that cater to the outdoor, California lifestyle for which the greater Palm Springs area is so popular. The Mediterranean-style village in South La Quinta includes a lighted sunken tennis court, swimming pool and spa, outdoor entertainment areas with fireplace, and is surrounded by championship golf courses. The exquisite landscaping and breathtaking views of the Santa Rosa Mountains are traditional hallmarks of gracious desert living.
Schmett recently commented, "As 2016 gets underway, it is clear that affordable luxury housing is rare and getting harder to find. This puts the beautifully appointed homes at Codorniz in a class all by themselves. I am not surprised that buyers are snapping them up as quickly as they become available."
Interest rates still remain low, and buyer friendly financing packages are available for all of the latest Codorniz models. For more information or to schedule a private tour, contact Brad Schmett Real Estate Group at 47100 Washington Street, Suite 204 in La Quinta.
For more information on luxurious Codorniz of South La Quinta visit http://www.codorniz.net.
To find out more about investing in La Quinta, CA real estate visit http://www.laquintarealestateinfo.com.
About Luxury Homes by Keller Williams: Luxury Homes by Keller Williams – La Quinta, is an exclusive, elite and sophisticated group of real estate consultants raising the bar for service in the upper-tier La Quinta and Palm Springs area residential real estate market.