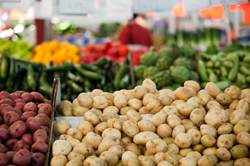 We live a privileged lifestyle that focuses on being the best you can be on every level."
La Quinta, CA (PRWEB) October 02, 2014
Brad Schmett, Broker Associate with Luxury Homes by Keller Williams today announced that the Certified Farmers Market on Main Street in Old Town La Quinta, presented every Sunday at 8 AM during the fall, winter and spring seasons will shine the spotlight on local luxury homes and the healthy desert lifestyle that many buyers come to Coachella Valley to take advantage of.
The outdoor Old Town Farmers Market is one of three held during the main social season in the Valley. Two others are on Wednesday in Palm Desert and on Saturday in Palm Springs. All three are outdoor seasonal Certified Farmers Markets that feature dozens of local vendors and superb produce, much of it also grown locally. In addition to produce expect to see handmade soaps, clothing, jewelry flowers, fresh baked breads and handmade crafts items.
Schmett discussed the farmers markets recently, "I suppose it is safe to say that we are somewhat spoiled here in the Valley. After all, we are used to fresh local produce and our Certified Farmer's Markets that offer us the best in fresh and unique products all year long. The healthy desert lifestyle and attention to holistic well-being goes hand in hand with being the owner of a luxury home here in the desert. We live a privileged lifestyle that focuses on being the best you can be on every level."
Farmers Markets feature live music, opportunities to taste and sample great new foods and products and a social time of greeting friends and neighbors in the community. From October through May enjoy the best of the valley at these great open air markets.
For more information on the Certified Farmers Market in La Quinta visit http://certifiedfarmersmarket.org.
To find out more about investing in La Quinta, CA real estate visit http://www.laquintarealestateinfo.com.
About Luxury Homes by Keller Williams: Luxury Homes by Keller Williams – La Quinta, is an exclusive, elite and sophisticated group of real estate consultants raising the bar for service in the upper-tier La Quinta and Palm Springs area residential real estate market.