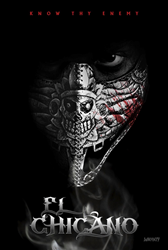 Carnahan said, "My hope is for this film to launch a new wave of support for the Mexican/American and Latino actors and filmmakers and drive more productions like it in the future."
LOS ANGELES (PRWEB) September 17, 2018
WarParty's Joe Carnahan and Frank Grillo will premiere their newest film, El Chicano, during the opening weekend of the Los Angeles Film Festival on September 22, 2018, at 9:15 pm at the ArcLight Cinema in Culver City.
The film is directed by Ben Hernandez Bray and stars George Lopez, Aimee Garcia (Lucifer), Raul Castillo (Seven Seconds, We The Animals), Kate Del Castillo, and Emilio Rivera (Sons of Anarchy). El Chicano is the first Latino-inspired superhero movie to hit the big screen. The film details the adventures of a mystifying crime-fighter known as El Chicano, who battles nefarious forces in the barrio. Joe Carnahan, Ben Hernandez Bray, Aimee Garcia, and Raul Castillo will be at the premiere screening.
Carnahan said, "This film underscores the tremendous talent within the Mexican-American community. It's unfortunate that our political landscape over the last couple of years has marginalized this community instead of embracing and honoring their contributions. My hope is for this film to launch a new wave of support for the Mexican/American and Latino actors and filmmakers and drive more productions like it in the future. Latinos make up nearly 25% of every movie ticket purchased in North America and its high time they were represented, especially in the superhero genre."
El Chicano is set to hit theaters in late November 2018, and although it is an English film, it will release in Spanish-subtitles in Latin-America. Ben Hernandez Bray said: "El Chicano has a poignant storyline that accentuates the pride we have in our Mexican-American heritage. This film can play a big part in creating change in the current culture of negativity. If we use it as a rallying cry to celebrate our heritage and accomplishments, which parallel our main character's beliefs, then it can be the catalyst for change in both the political and entertainment culture."
El Chicano is the second film produced by WarParty. Their first film, "Wheelman" was bought by Netflix and released worldwide. "Wheelman" was highly lauded by critics and fans alike. They have currently wrapped their third film, "Boss Level" starring Frank Grillo, Mel Gibson and Naomi Watts and are finishing their fourth film "Point Blank" with Grillo and Anthony Mackie, which they co-produced with Gaumont for Netflix.
Carnahan and Grillo established a $20 Million WarChest Fund with an investment group from Calgary to produce four to five films a year, which they call "elevated genre" pictures. Their fifth film, a reimagining of the popular martial arts epic, "The Raid", is slated to start production in January.
Carnahan is repped by CAA and Grillo is repped by WME and Management 360.