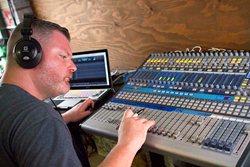 I was attracted to SAE because it was affordable and had a great reputation. The fact that they accepted the GI Bill was also a huge factor for me.
Los Angeles, CA (PRWEB) September 02, 2015
Ethan Glaze, a 2012 graduate of SAE Institute Los Angeles' Audio Technology Program, has hit the one year mark as the recording engineer with Jam in The Van (JITV), the "world's first solar powered music discovery vehicle". Glaze oversees the production and recording of music in JITV's mobile studio, aka The Jam Van, which has featured new and established artists from across the United States since 2011.
"My responsibilities with JITV include going on the road with the Van to festivals and events around the country, overseeing quality control for all of the equipment, setting up mics, and doing all the stage plots for the video shoots," says Glaze. "The recording sessions are hybrid live sound gigs as well, since people can see what's happening in the Van on TV monitors outside. It's a lot of work, and a whole lot of fun."
A graduate of Hillcrest High School in Springfield, MO, Glaze grew up in a musical household: his father plays mandolin and guitar, and both his parents encouraged him to sing in the school choir. He developed an interest in DJing, EDM, and audio engineering while in the Navy after he graduated from high school, and enrolled at SAE's Los Angeles campus in December of 2011.
"I was attracted to SAE because it was affordable and had a great reputation," says Glaze. "The fact that they accepted the GI Bill was also a huge factor for me."
Glaze has traveled with the Van to the High Sierra Music Festival, Lennon Studios in San Francisco, Rancho De La Luna Studio in Joshua Tree, SXSW in Austin, The Blues & Brews Festival in Telluride, Jazzfest in New Orleans, and locations around Los Angeles. He's recorded over 400 sessions with a variety of artists, including The Plain White T's, Drake Bell, George Clinton, Cody Simpson, Fishbone, G. Love & Special Sauce, and The Dirty Heads.
In terms of career advice for SAE's students and recent graduates, Glaze believes that "acting like a pro is key".
"To become a successful audio engineer, you need to be a person of action, not a person of excuses who looks for the reasons why something can't be done," says Glaze. "You're going to get flustered from time to time, but it's how you react to those situations that make you a professional."
About SAE
SAE Institute provides aspiring creative media professionals with a foundation of practical theory and valuable hands-on training in their chosen areas of concentration. Under the guidance of our faculty, which is comprised of working industry professionals, students gain the essential experience they need for entry-level jobs in the entertainment business. Our students are supported in their job searches by SAE's international network of alumni, many of whom are leaders in the music, film, game arts, and live performance arenas. We offer programs in audio technology across our seven US campuses, along with a music business program at select locations, all fully accredited and focused on preparing students for employment when they graduate. Bachelor's Degree programs in Animation, Audio, Film, Game Art & Graphic Design are available at the two locations of Ex'pression College, which is owned and operated by SAE Institute Group, Inc. SAE Institute Group, Inc. is a part of Navitas LTD. Learn more at USA.sae.edu.
About Navitas
Navitas is an Australian global education leader, providing pre-university and university programs, English language courses, migrant education and settlement services, creative media education, student recruitment, professional development, and corporate training services to more than 80,000 students across a network of over 100 colleges and campuses in 27 countries. Learn more at Navitas.com.