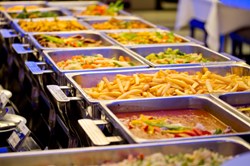 "Many diets fail to take into account the way our bodies function...LA Weight Loss is proven to work with your body's natural processes for quick and consistent weight-loss results" - Caroline Kolompar, CMO.
Greensboro, North Carolina (PRWEB) August 21, 2013
College is an exciting time: a new city, new school, and a fresh start. For most, it's also the first time living away from home in a dorm or residence. For those living at home, it still signals the first time classes won't be finished by 3 PM; the beginning of regular late-night study sessions; most of all, a newfound sense of freedom.
Unfortunately, relaxed rules and new surroundings can break good eating habits, while the change of schedule and new social activities can derail weight loss efforts. This downward spiral starts so quickly it's even been given its own nickname: the freshman 15. While new studies and surveys across America suggest that first-year weight gain isn't quite as dramatic as adding a full fifteen pounds by Thanksgiving – the benchmark for when most students return home or see extended family who'd notice the extra baggage – almost all studies and surveys discovered some weight gain during the first year of college.
To address this growing concern (quite literally!), LA Weight Loss offers new tips for effective weight loss and strategies to avoid weight gain at college.
Timing is everything: Disordered schedules can play a big role in disrupting eating habits, making portion sizing and timing quite irregular. Most students were also used to a structured eating pattern in their parents' household. Though the newfound freedom of college enables students to eat what they want, when they want, a smart weight- loss system involves sticking to regularly timed meals and snacks. Just as a college timetable tells students when to go to class, creating a meal plan outlining what and when to eat promotes successful weight loss. The LA Menu Plan can help students learn the portion-perfect way to eat healthy, delicious foods to feel full and satisfied. It's all in the handy program guide filled with information, tips and even a dining-out guide that highlights healthy meals in popular restaurants.
The pitfalls of dining halls: The basic structure of college-campus dining halls also makes weight management a challenge. Dining halls often offer either an all-you-can-eat buffet structure – including tables of high-calorie dessert options – or a food court-style set-up with fast food options. Either scenario makes it tempting to choose oversize portions of fried food, junk food, carbohydrate-heavy or sugar-laden servings. Following the LA menu plan will help students choose balanced meals with the right combination of fats, proteins, dairy, starches and plenty of fruits and vegetables to kick that metabolism into overdrive. To quell that craving or sweet tooth, each LA program offers the flexibility to incorporate LA bars – a perfectly portioned snack that kills cravings and satisfies that sweet tooth to stay on track with those weight-loss goals.
The juggling act: In addition to adjusting to a heavier workload in college, many students also fit in part-time jobs. But the stress of coping with expensive tuition and balancing a hectic schedule with shifting priorities – all on a shoestring budget – takes its toll. As much as college parties are about socializing, it's also about letting loose, often by overindulging in alcohol. Not only is alcohol filled with empty calories, but it can block the absorption of essential nutrients. When combined with busy days that leave students run ragged, there's also often little time for taking care of oneself. A smarter strategy includes making time for exercise to keep life from feeling overwhelming. Avoid binge drinking as a means to blow off steam and go for a walk instead. Enjoy alcohol in moderation, but stagger drinks and substitute a glass of water in between. Lastly, balance that juggling act with supplementation to give the body the nutrients it needs. LA Weight Loss has developed a line of weight- loss products offering the latest in weight-loss science and pharmaceutical advancements. Take full control of weight loss and make sure the body is getting what it needs to run at full steam with LA Weight Loss SmartTrim Nutritionals.
"Many diets fail to take into account the way our bodies function as well as our lifestyle habits," said Caroline Kolompar, Chief Marketing Officer at LA Weight Loss. " LA Weight Loss is proven to work with your body's natural processes for quick and consistent weight-loss results."
About LA Weight Loss
Since 1997, LA Weight Loss has helped millions of people reach their long-term weight loss goals. With the convenience of LA's at-home program, members lose an average of one to two pounds per week and learn how to keep it off for good. At LA Weight Loss, healthy living is not just for the rich and famous – it's for everyone. For more information about LA Weight Loss, visit http://www.LAWeightLoss.com