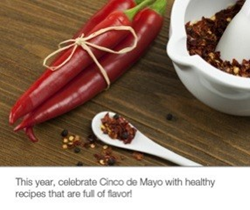 LA Weight Loss makes it easy to achieve weight-loss results while enjoying flavorful meals made with real food.
Greensboro, North Carolina (PRWEB) April 24, 2014
Cinco de Mayo – a holiday honoring Mexican culture and heritage, celebrated on and translating to, "the fifth of May" – is observed in southwestern American states and parts of Mexico on May 5 every year, but is a great opportunity for a party in any part of the country. Unfortunately, many American interpretations of Mexican-flavored favorites are high in calories and can derail weight-loss efforts. This is no reason to hang up that sombrero; check out these inspiring suggestions from the LA Weight Loss Good Grilling cookbook. Such sizzling recipes will make any Cinco de Mayo celebration mucho caliente.
Mild Chili Powder: Mix paprika, cumin, oregano, cayenne pepper and garlic powder together in an airtight container to create a rub that's perfect for chicken or pork. This powder is also a great addition to any vegetarian or turkey chili recipe. Spice mixes, like this one, are a great way to infuse tons of flavor without any fat or calories.
Lemon Cilantro Grilled Corn: Coriander, also known as cilantro, is an herb with delicate green leaves and a pungent flavor that's used in Tex-Mex and Latin American cuisine among many others. Love it or hate it – and most tend to have strong feelings either way – cilantro contains anti-oxidants linked to delaying the spoilage of food. Some studies suggest it can even lower cholesterol. Try this zesty recipe by mixing cilantro with lemon zest, cayenne pepper and margarine, and spreading on cobs of corn before grilling. It'll add new flavor to a favorite side dish.
Grilled Red Snapper with Peach Salsa: Mexican salsas were traditionally created using a special type of mortar and pestle, but this peach salsa is super easy as all ingredients come together coarsely chopped. Combine peaches, onion, red pepper, cinnamon, ginger and cayenne pepper in a bowl and serve on top of simple grilled red snapper filets for a sweet, spicy way to treat those taste buds.
This year, celebrate Cinco de Mayo with healthy weight-loss recipes that are full of flavor. Full recipes can be found in the LA Weight Loss Good Grilling cookbook, available online. It's possible to lose weight – deliciously – with LA Weight Loss.
"LA Weight Loss is proven to work with the body's natural processes for quick and consistent weight-loss results," said Regan Tessis, ND Vice President of Scientific Affairs and Consumer Health for LA Weight Loss. "LA Weight Loss makes it easy to achieve weight-loss results while enjoying flavorful meals made with real food."
About LA Weight Loss
Since 1997, LA Weight Loss has helped millions of people reach their long-term weight loss goals. With the convenience of LA's at-home program, members lose an average of one to two pounds per week and learn how to keep it off for good. At LA Weight Loss, healthy living is not just for the rich and famous – it's for everyone. For more information about LA Weight Loss, visit http://www.LAWeightLoss.com.