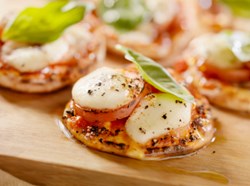 With the LA Rapid Results Diet System working for you, we know you can lose the weight – millions already have. - Regan Tessis, ND VP of Scientific Affairs at LA Weight Loss.
(PRWEB) October 23, 2013
According to recent statistics online, approximately 93 percent of Americans eat pizza regularly (at least one slice per month). For many families, pizza night is a weekly tradition or quick go-to supper on a busy night. Unfortunately, pizza is often regarded as off-limits for those watching their waistlines. In honor of National Pizza Month this October, LA Weight Loss encourages Americans to go ahead and grab a slice – but still achieve quick, effective weight loss. Here's how to indulge and keep weight loss on track with LA Weight Loss.
Include lots of sides: Think of the dinner plate as a pie chart – similar to a pizza pie – that's divided into slices. Many fall off track not simply because there was pizza for dinner, but because it's a pizza night with cheesy breadsticks, heavy dips and chicken wings on the menu in addition to pizza. Instead, plan a pizza night with veggies and dip, a salad and pizza – all getting an equal slice of the action on that dinner plate.
Load up on toppings: Choose lots of fresh veggies and lean protein as pizza toppings. Load up that pie with mushrooms, green peppers, onions, olives or tomato. For a twist, try something sweet like pineapple or for a gourmet twist, try chicken and fresh arugula with a balsamic glaze. Always go easy on the part-skim mozzarella cheese (no double cheese!) and avoid heavy meat toppings.
Turn the kitchen into a pizzeria: Have a say over the nutritional content of pizza by hosting a DIY (Do It Yourself) pizza night. Buy fresh dough (whole wheat, if possible) from the local grocery store and take control of the toppings. Not feeling creative? Check out the LA Weight Loss recipe online for an easy-to-make, scrumptious pizza with a twist – Turkey Pizza.
Don't feel guilty about enjoying National Pizza Month. Enjoy a slice and reach those weight-loss goals with LA Weight Loss. LA's three-part success system covers all the bases needed to keep metabolism in overdrive. The LA Menu Plan provides healthy-habit knowledge to balance nutrition, LA Bars offer the freedom to satisfy that sweet tooth and snack guilt-free, while the LA Weight Loss line of nutritionals give the body the nutrients it needs to optimize weight loss.
"The LA Rapid Results Diet System works with your body, not against it," said Regan Tessis, ND Vice President of Scientific Affairs at LA Weight Loss. "Many diets fail to take into account the way our bodies function. We need protein, carbohydrates and even fat. But we also need food in the right proportions. With the LA Rapid Results Diet System working for you, we know you can lose the weight – millions already have."
About LA Weight Loss
Since 1997, LA Weight Loss has helped millions of people reach their long-term weight loss goals. With the convenience of LA's at-home program, members lose an average of one to two pounds per week and learn how to keep it off for good. At LA Weight Loss, healthy living is not just for the rich and famous – it's for everyone. For more information about LA Weight Loss, visit http://www.LAWeightLoss.com.