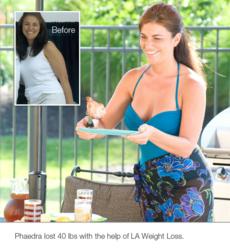 "LA Weight Loss knows how important it is to eat the foods you love with the people you love," Regan Tessis, ND VP of Scientific Affairs and Consumer Health
Greensboro, North Carolina (PRWEB) July 10, 2013
Summer get-togethers can so quickly turn into a caloric disaster, derailing weight-loss efforts and causing panic at picnics and backyard barbeques. Luckily, LA Weight Loss has the solution to achieve weight-loss success with even a packed social calendar this summer: the Soup & Salad cookbook. This weight-loss cookbook, which is now available online, is full of nutritious and healthy recipes for weight loss.
Make gorgeous greens: At the next backyard barbeque or picnic, be a thoughtful guest and offer to bring a salad. Not only does this make the host/hostess' preparations easier, but also ensures there's at least one healthy alternative to the mayonnaise-drenched potato and pasta dishes masquerading as salads. To make salads more delicious, beautiful and healthy, only add dressing right before serving. This helps keep the salad from getting soggy. Similarly, unless adding whole cherry or grape tomatoes, add watery tomato wedges right before tossing and serving.
Dress it up: Bringing a salad doesn't have to be the boring option on the buffet table. Try a twist on the traditional by bringing a Strawberry & Melon or Spaghetti Squash Salad from the Soup & Salad cookbook. Or add pizzazz to a simple garden salad by making dressing instead of bringing a bottle of the store-bought stuff. Make some Yogurt Dill or Sweet & Sour Dressing from the weight-loss cookbook. In a pinch, emulsify some fruit juice – like orange or pineapple – with a touch of vegetable oil and honey or nutmeg. To mix greens with less mess, refrigerate in a large, sealable plastic bag. When ready to serve, drizzle the dressing directly into the bag. Seal the bag and shake everything up for evenly coated greens.
Give protein a punch: Make friends with the master griller and reserve some sirloin or flame-broiled chicken breasts. Put that protein on the grill before the rest of the burgers and steaks and get it off before the rest of the meat is done. Use those extra few minutes to pull together a platter of Sirloin Caesar or a Sesame Ginger Chicken Salad from the Soup & Salad cookbook. Next to a platter of charred meat, that colorful salad with juicy strips of steak or chicken will really pop with texture and flavor, contributing to effective weight loss.
Prepare for the main event: When it's not feasible to bring a dish, make sure that ravenous hunger doesn't take over during the picnic or barbeque. Make a batch of delicious Sweet Potato, Minestrone or Spinach Soup from the Soup & Salad weight loss cookbook and have a bowl before going to keep that appetite in check when temptation strikes.
"At LA Weight Loss, we're committed to helping you reach your desired goal weight quickly and easily," said Regan Tessis, ND Vice President of Scientific Affairs and Consumer Health for LA Weight Loss. "Our team of nutritionists has developed recipes to fit every occasion because we know firsthand what an integral part food plays in our lives. It's the cornerstone of many activities and how we relate to each other. For that reason, LA Weight Loss knows how important it is to eat the foods you love with the people you love."
About LA Weight Loss
Since 1997, LA Weight Loss has helped millions of people not only achieve weight-loss success, but reach their long-term weight-loss goals. With the convenience of LA's at-home weight-loss program, members lose an average of one to two pounds per week and learn how to keep it off for good. At LA Weight Loss, healthy living is not just for the rich and famous – it's for everyone. For more information about LA Weight Loss and their affordable at-home weight-loss program, visit http://www.LAWeightLoss.com.