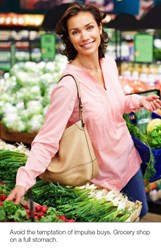 By answering a few simple questions in the privacy of your own home, you can select the program – Silver, Gold or Platinum – that's the best fit for your lifestyle.
Greensboro, North Carolina (PRWEB) February 19, 2014
Many weight-loss plans can quickly become a dieter's financial nightmare. With expensive meal plans, exclusive meals to purchase, and pricey gym memberships to pay for, it's no surprise that the only thing that starts feeling lighter is that bank account balance. Wish there was a better way? LA Weight Loss is pleased to introduce practical tips to trim down and cut the fat without feeling like that pocketbook is living lean.
The LA Weight Loss system is proven to work with the body's natural processes for quick and consistent weight-loss results. With the LA Weight Loss Menu Plan, it's easy to achieve effective, affordable weight-loss results while enjoying flavorful meals made with real food from the local market. Here are a few hints to get you started on your weight-loss journey:
Plan ahead: Going to the grocery store hungry is always a poor plan, resulting in higher grocery bills and unhealthy, impulse food selections. LA Weight Loss has put together a fantastic collection of healthy, easy-to-prepare recipes. Find and flag a few favorites before hitting the supermarket. Then, only buy what's needed for a few days at a time.
Shop often: Never waste money by tossing unused, wilted produce again! The trouble with strict weekly menus is that plans come up or change unexpectedly. The mark of a smart weight-loss program is one that's realistic and easily adapts to a busy lifestyle, like the LA Weight Loss system. Instead of planning out every meal a week in advance, look at the calendar and figure out the next couple of days. Shop the perimeter of the store to find the freshest ingredients for LA Weight Loss' convenient breakfast, lunch and dinner recipes.
Bring a lunch: It may not be the most important meal of the day, but it can end up being the most costly. Recent surveys and articles suggest that Americans are spending almost one thousand dollars a year just by purchasing lunch an average of twice a week. As an alternative, try packing a lunch and using that mid-day break to accomplish an errand, take a walk for fresh air or catch up with co-workers in the lunchroom. Enjoy a hearty Minestrone soup or Curried Chicken Salad – just a couple of lunch options from the LA Weight Loss series of cookbooks and menu plans – and keep those finances lean while losing weight affordably and effectively.
"LA Weight Loss can help you choose the right weight-loss program for you," said Dr. Regan Tessis, ND Vice President, Scientific Affairs & Consumer Health. "By answering a few simple questions in the privacy of your own home, you can select the program – Silver, Gold or Platinum – that's the best fit for your lifestyle. Everything you need is conveniently shipped right to your door for fast, affordable, effective weight-loss results that last."
About LA Weight Loss
Since 1997, LA Weight Loss has helped millions of people reach their long-term weight loss goals. With the convenience of LA's at-home program, members lose an average of one to two pounds per week and learn how to keep it off for good. At LA Weight Loss, healthy living is not just for the rich and famous – it's for everyone. For more information about LA Weight Loss, visit http://www.LAWeightLoss.com.