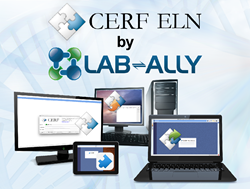 "CERF ELN has been been in continuous use by research organizations world-wide for more than a decade"
Columbus, Ohio (PRWEB) January 24, 2017
Lab-Ally LLC today announced the release of Version 5.0 of its award-winning CERF ELN (Electronic Laboratory Notebook) and Electronic Document Management System (EDMS). CERF ELN is a 21CFR11 compliant, collaborative, knowledge asset manager used by laboratories, regulated scientific companies and biomedical organizations. CERF replaces paper-based or individual PC-based recordkeeping with a secure, centralized and highly searchable repository.
ELNs are widely used by modern research organizations to improve research productivity, defend against IP challenges and prevent due diligence issues. While there are many ELNs on the market, CERF is designed specifically for commercial organizations that want the convenience of a combined ELN and ultra-long-term document manager in a single solution. CERF also distinguishes itself from competitors by offering cross-platform flexibility, configurable compliance rules and advanced semantic metadata features that help organizations to maintain corporate memory, even as scientists and employees come and go and projects evolve over the years. Additionally, CERF's low cost of ownership, perpetual license, robust architecture and built-in future proofing are specifically designed to help organizations maintain total control of their data, regardless of technology trends or changes to corporate structure.
Organizations using CERF each have their own private server. The server can be installed on a cloud host, organizational network or even on a completely sealed LAN. Users access their data via feature-rich client apps for Windows, Mac OS or Apple iPad. The client applications enable users to import, create, and work with data in any format and collaborate seamlessly in real-time.
CERF 5.0 is the first version created entirely by Lab-Ally LLC in an all-new development environment. It features updated components throughout and has been totally refactored for use with modern hardware and operating systems including Windows 10 and Mac OS 10.12 (Sierra).
CERF 5.0 also includes:

The CERF 5.0 update is immediately available, and is recommended for all users. Organizations using previous versions of CERF should contact Lab-Ally to arrange for the update.
About Lab-Ally
Lab-Ally was founded in 2013 and provides a broad range of informatics, life-science and histopathology research services. In 2014 Lab-Ally acquired CERF ELN and also became a co-designer and distributor the browser-based RSpace ELN for institutions and biotech incubators. Company founder and Chief Executive Rob Day says, "Our position at the strategic nexus of discovery research, data management, and commercialization, combined with our network of scientific partners allows us to help our customers tackle a diverse range of tough research problems. Our ELN products are the key. With powerful tools like CERF 5.0, we can show scientists how to make the most of their data and offer end-to-end solutions that help organizations achieve their scientific and business goals, while avoiding data loss and minimizing risks from legal or regulatory challenges."