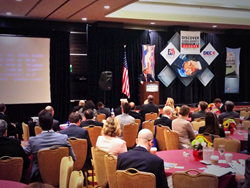 As the world shrinks and becomes flatter, you're facing stronger and stronger competition from every angle. You need to squeeze out every competitive advantage possible.
Los Angeles, CA (PRWEB) June 04, 2014
In a year when the U.S. and the European Union seem to be on the precipice of a free trade agreement that would abolish many of the duties and fees associated with shipping to European customers, it was fitting that the U.S. Commercial Service & the District Export Council of Southern California organized the Discover Global Markets Business Forum Series in June with a Focus on exporting to Europe. According to The Office of the U.S. Trade Representative, the Transatlantic economy accounts for half of the world GDP, which underscores the opportunity that small to medium sized U.S. businesses might have should any progress occur on breaking down barriers to entry into a post-recession European market with hundreds of millions of consumers.
In a speech delivered to the Forum, Jim Barber, the president of UPS International noted that "e-commerce in Western Europe is expected to grow by double-digit rates through 2016 … to more than $200 billion dollars," and that, "According to the Small Business Administration, companies participating in international trade are 20 percent more productive and have 20 percent better job growth than those that don't."
Medelita, a manufacturer of premium lab coats, scrubs, and medical uniforms for physicians, has been selling direct to consumers in Canada and overseas via its website ever since its inception in 2008. Recognizing the sizeable opportunity for growth, the company recently worked with UPS to provide more transparency to customers abroad at the point of purchase, so that international customers could pay any duties and taxes up front to ensure their package arrives without interruption in customs. Since the new program was put in place, Medelita has seen a 42 percent increase in international order revenue year over year.
Mr. Barber used San Clemente – based Medelita as an example of a company that is getting out ahead of the competition early, "Medelita was looking beyond the domestic market. Its business model also included establishing an international presence. But the company's founders admin they didn't know much about exporting." He outlined why having the right partners is essential when planning a successful export strategy, and through its partnership with UPS, Medelita can now double down on its marketing efforts internationally to support its global growth strategy. "As the world shrinks and becomes flatter, you're facing stronger and stronger competition from every angle. You need to squeeze out every competitive advantage possible," Mr. Barber continued, "I love a happy customer, especially one that is growing its business by expanding its horizons."
Medelita President, Jamie Beuthin and Chief Marketing Officer, Dan Stepchew were invited to the Forum as special guests with UPS. "We feel extremely honored to have been a part of this event and excited for the future of e-commerce abroad, especially in Europe," noted Mr. Beuthin, "We're happy with the support we have received from our representatives from UPS, and look forward to their continued support as we ramp up our efforts abroad."
To read the full transcript of Mr. Barber's speech, please visit http://pressroom.ups.com/About+UPS/UPS+Leadership/Speeches/Speeches+for+Syndication/Capitalizing+on+Global+Trade:+A+Success+Story.
For more information on the Discover Global Markets Business Forum Series, please visit http://export.gov/california/ca/DiscoverEurope/index.asp.
About Medelita
Medelita is redefining the way healthcare professionals present themselves at work. Combining innovative, certified, performance fabric technology with sophisticated designs and hand-tailored workmanship, Medelita offers the most refined, comfortable and functional gender specific lab coats and physician scrubs available. Exquisite detailing and traditional sizing ensure flattering shaping, an unsurpassed professional appearance and a vastly improved fit. For more information, visit the Medelita website at http://www.medelita.com or call 877.987.7979.
Contact:
Joe Francisco
Medelita
1046 Calle Recodo, Suite D
San Clemente, CA 92673
877.987.7979
joe(at)medelita(dot)com
http://www.medelita.com
###