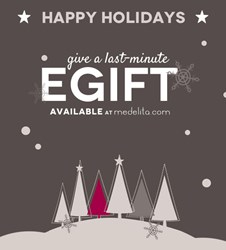 Our brand is making an impact on the way clinicians think about the clothes they wear.
San Clemente, CA (PRWEB) December 26, 2013
In the past few years since the company's inception, expectations for December sales at Medelita have always traditionally been modest, at best. Thanksgiving weekend shoppers typically make up the bulk of the company's customers in the fourth quarter, while website traffic and sales normally drop off significantly as early as the second week in December.
In contrast, December 2013 has represented a turn around in this trend, as traffic to the website (http://www.medelita.com) and online sales have more than doubled over the same period from 2012 at 116% and 135%, respectively. Part of this phenomenon can be attributed to the timing of this year's holiday season, with the U.S. Thanksgiving Day holiday weekend extending into the first week in December. Also, according to Goldman Sachs, global e-commerce sales are growing at 19% per year. Chief Marketing Officer, Dan Stepchew, offers a third reason for the surprising up-tick in sales growth, "Our unique approach to lab coats and medical scrubs has reached a maturity level that is resonating with medical professionals, as we have spent years upgrading our fabrics, tweaking our designs, expanding our embroidery services, and making it easier to order with us." Stepchew added, "There is a confluence of many trends happening here – many more consumers are feeling comfortable purchasing online, more physicians are moving into specialties that require a more professional appearance, and our brand is making an impact on the way clinicians think about the clothes they wear."
The company has taken advantage of a productive holiday season for retailers by promoting flash sales on key dates when website traffic was at its peak. This strategy has proven to be effective given that the majority of the company's sales in December came in during these dates.
About Medelita
Medelita is redefining the way healthcare professionals present themselves at work. Combining innovative, certified, performance fabric technology with sophisticated designs and hand-tailored workmanship, Medelita offers the most refined, comfortable and functional gender specific lab coats and physician scrubs available. Exquisite detailing and traditional sizing ensure flattering shaping, an unsurpassed professional appearance and a vastly improved fit. Quality is so exceptional, the company provides a One Year Guarantee – which is unmatched by any other medical apparel manufacturer in the industry. For more information, visit the Medelita website at http://www.medelita.com or call 877.987.7979.
Contact:
Joe Francisco
Medelita
1046 Calle Recodo, Suite D
San Clemente, CA 92673
877.987.7979
joe(at)medelita(dot)com
http://www.medelita.com