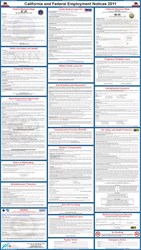 Some new laws will create challenges for California employers- stay in compliance with the newest state labor law posters.
Brea, CA (PRWEB) September 19, 2013
Governor Jerry Brown recently signed many new bills that are mandatory to be included in your business's California state labor law posters. Some of the newer bills are groundbreaking changed to the law while others are merely expansions of the existing laws.
There has recently been a change made to the labor laws of California, including important matters such as wage garnishment, protection of religious wage and behavior, and employment contract requirements, to name a few.
State and Federal Poster now carries the newest state and federal labor law posters with the latest mandatory postings and revisions. Don't fall behind on the most current version of the California employment and labor law updates, get your California State Labor Law Posters today!