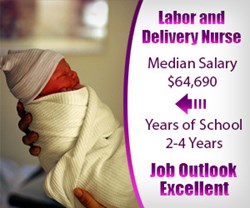 The new data also showed the highest 10 percent can earn around $95,000 per year, while those in lowest 10 percent may earn around $44,000 per year.
Columbus, OH (PRWEB) February 19, 2014
The new data also showed the highest 10 percent can earn around $95,000 per year, while those in lowest 10 percent may earn around $44,000 per year.
There is no doubt one's earning power in this nursing sub-speciality is dependent on factors, which can work for or against how much salary an individual can take home annually. Contributing factors include one's geographic location, place of employment, level of experience, certification status, and level of education.
"Chief among them is the level of certification one has in the specialty area of concern. Therefore, increasing your level of education and taking advantage of opportunities to advance your experience can is a big plus," says Hansen, editor for nursing100.com.
According to the source, labor and delivery nurses primarily work in such areas as birthing centers, major hospitals, women's health clinics, and obstetrical units, and are known to take on many different roles depending on what their patients are needing.
Some of the duties include the following:

Assisting in childbirth
Creating a positive labor experience
Patient education
Monitoring patient vital signs and contractions
Provide pain medications and other necessary medications
Monitor mother throughout hospital stay
Help mom feed, care for and bond with her new baby
Work with women throughout all stages of childbirth
Help the doctor should any complications rise
Assist with episiotomies and Cesarean sections
Monitor fetal heart rate
Assist in labor induction
Assist in developing birth plans
Getting the patient properly admitted to the hospital
Preparing the room for birth
Helps mom to get in proper birthing position
Cleaning the patient prior to and after birth
"Labor and delivery nurses, who are usually trained in all aspects of birth delivery, are often quite useful in emergency situations where a midwife and physician are not always present. While it is not common that this type of nurse deliver on his or her own, it is a possibility," notes Hansen.
ABOUT LABOR & DELIVERY NURSE
Labor and Delivery nurses started to play a major role in childbirth in 1925. They mainly served rural, poor country areas. During this same year in Kentucky, the Frontier Nursing Service was founded by Mary Breckinridge. She was a Red Cross public health nurse who was determined to help the poor. Until the 1950s, these nurses mainly performed home births, but during the baby boom, these nurses were needed in hospitals to assist the physicians with the major increase of women having babies in hospitals. Labor and delivery nurses work closely with doctors to satisfy all of the needs of birthing mothers and their babies immediately after birth. They also assist new mothers in learning how to breastfeed and bond with their new baby.
For further information, regarding labour and delivery nurse salary, please visit the following website: http://www.nursing100.com.
Author Bio
JC McClain is the senior editor for Nursing100.com.