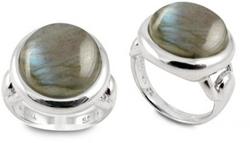 Our Labradorite rings have always been popular with our customers, and thus we're very happy to now be able to provide them with an even wider selection of beautiful Labradorite rings!"
(PRWEB) September 30, 2014
BillyTheTree.com is welcoming fall with a new line of Labradorite rings. The beautiful Labradorite gemstone, added by popular demand, features beautiful coloration, perfect for fall. The unique and popular Labradorite rings come in a variety of styles and price points. BillyTheTree.com is a leading provider of jewelry, magnetic and wellness jewelry, watches, sunglasses and more.
"Our Labradorite rings have always been popular with our customers, and thus we're very happy to now be able to provide them with an even wider selection of beautiful Labradorite rings!" says Robin Weber.
According to a recent article on Digital Journal, this years' fall trends include bold colors and whimsical statement jewelry. The unique variety of styles of Labradorite rings matched with the popular, colorful stone makes a great fall statement.
In addition to the Labradorite rings, BillyTheTree.com offers a wide range of other gemstones. Whether looking for a unique or rare gemstone, or a traditional birthstone, BillyTheTree.com is a one-stop shop for all jewelry needs. BillyTheTree.com offers free shipping and a 30 day satisfaction guarantee. Since 2004, customers have been enjoy the savings and variety offered at BillyTheTree.com.
To view the full collection or to purchase Labradorite rings please visit BillyTheTree.com
About BillyTheTree.com
Founded in 2004 by Robin Weber when he was still a senior in high school, BillyTheTree.com offers a large variety of affordable, yet high quality jewelry, watches and sunglasses. The company carries several product lines, which include almost 25,000 items consisting of magnetic jewelry, sterling silver jewelry, jade jewelry, high performance sport sunglasses, and more. For more information, or to place an order, please visit: billythetree.com.