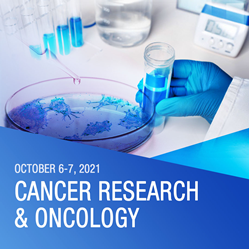 YORBA LINDA, Calif. (PRWEB) September 30, 2021
Labroots, the leading scientific social networking website offering premier, interactive virtual events and webinars, is hosting its Cancer Research & Oncology conference on October 6th and 7th, marking the 9th consecutive year. The two-day program continues to bring together well-renowned experts on the front lines of scientific discovery and advancement on a global basis.
Cancer Research & Oncology 2021 remains as a long-standing conference providing participants the unique opportunity to foster collaborations and gain valuable insight on emerging topics including cancer immunotherapy and novel cancer therapeutics, health disparities and how cancer impacts the unrepresented and underserved, integrating genetics into standard of care and precision medicine, and the role of evolution and evolutionary medicine in understanding the drug and radiation resistance of cancer.
Kicking off day one, Dr. Angelo Moore, Assistant Director, Office of Health Equity, Duke Cancer Institute, Adjunct Associate Professor, University of North Carolina at Chapel Hill, will share a keynote address describing the impact of social drivers of health and our current healthcare system have on health disparities, the importance of understanding historical contributions to health disparities, and action items to improve healthy equity.
"COVID-19 has turned our worlds upside down and forced many to stay at home and away from routine cancer screenings. COVID is here but so is cancer. COVID highlighted the health disparities for others to visually see; however, many of us in the cancer health disparity realm have known this for quite some time. Health disparities are rooted in systemic racism, systemic discrimination, and social drivers of health. It is important to know this history and talk about the negative impact on health for historically marginalized populations. And, to address health disparities, we must address these systems," commented, Angelo Moore, PhD, Assistant Director, Community Outreach, Engagement, and Equity, Duke Cancer Institute.
Day two features keynote speaker, Dr. Nadine Barrett, Assistant Professor, Family Medicine and Community Health; Director, Center for Equity in Research, Duke Clinical Translational Science Institute exploring diversity, equity, and inclusion in cancer research: the promise of stakeholder engagement.
The informative agenda addresses new breakthroughs in cancer science, therapeutics, and critical data while prominent speakers reveal discussions on monitoring tumor microenvironment immunotherapeutic impact in heterogeneous cancer: prostate cancer, spatial transcriptomics and a novel therapeutic target B7-H3, early identification of target candidates for pancreatic adenocarcinoma immunotherapy, breast cancer health disparities in African American women, advances in high-throughput drug screening using hydrogels for 3D cell culture, neoantigen vaccines for personalized immunotherapy, genetics and prostate cancer disparities facing African Americans, and the chemotherapeutic potential of rosehip and sweet potato plant extracts in triple negative breast cancer, just to name a few.
"Over the past 8 years, Labroots' Cancer Research & Oncology virtual event has become the leading annual meeting and a proven success in bringing innovative research and up-to-date developments to the scientific community," said Greg Cruikshank, Chief Executive Officer of Labroots. "We are excited to share the same goal year after year of improving patient outcomes and treatments, driving the field for rapid development of novel immunotherapies, and advancing cancer research via our enlightening educational forum."
Produced on Labroots' signature platform, this online environment allows participants to connect seamlessly across desktop and mobile devices delivering a complete educational experience. Attendees will visit the lobby, equipped with leaderboard and gamification, auditorium, featuring live-streaming video webcasts (new feature – live chat during the scheduled presentations), poster hall to explore date and engage in live chat conversations, exhibit hall to interact with sponsors and view their recent contributions in the field, and a virtual lounge to make valuable connections with colleagues, including a social media wall and photo booth.
By attending this event, you can earn 1 Continuing Education credit per presentation for a maximum of 35 credits. To register for the event, click here. Follow the conversation online by using #LRcancer.
About Labroots
Labroots is the leading scientific social networking website, and primary source for scientific trending news and premier educational virtual events and webinars and more. Contributing to the advancement of science through content sharing capabilities, Labroots is a powerful advocate in amplifying global networks and communities. Founded in 2008, Labroots emphasizes digital innovation in scientific collaboration and learning. Offering more than articles and webcasts that go beyond the mundane and explore the latest discoveries in the world of science, Labroots users can stay atop their field by gaining continuing education credits from a wide range of topics through their participation in the webinars and virtual events.