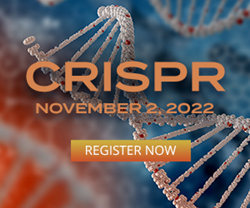 YORBA LINDA, Calif. (PRWEB) October 27, 2022
Labroots, the leading scientific social networking website offering premier, interactive virtual events and webinars, is delighted to announce its 5th annual CRISPR virtual event. The free, online event builds on previous years events and advances the conversations happening around sessions such as CRISPR Biology, CRISPR in Diagnostics, and CRISPR in Disease Therapy. This event will take place on November 2, 2022.
CRISPR 2022 promises to bring together thought leaders from academia, research scholars, top scientists, and industry experts from pharmaceutics and biotech from around the world to uncover promising approaches and advances in the field.
The educational agenda featuring distinguished speakers will showcase cutting-edge research in the discovery of new CRISPR-Cas systems, gene editing therapies, and other applications. Topics for discussion include key requirements of CRISPR reagents for preclinical and translational research, current and novel approaches to targeted gene editing, new molecular technologies for genome editing and cell control, innovative tools for efficient CRISPR-Cas genome engineering, CRISPR-based microfluidic biosensing systems for molecular diagnostics, detecting viruses with CRISPR, and so much more!
"The pandemic inspired our community to come together and harness our collective talents to create new classes of diagnostics and therapeutics for detecting and treating pathogens," commented Planning Committee Member, James. J. Collins and Termeer Professor of Medical Engineering & Science, and Professor of Biological Engineering, MIT. "These innovative efforts brilliantly leveraged conceptual and technical advances in synthetic biology and CRISPR-based technologies, and we aim to highlight these successes in this timely conference."
Key highlights encompass a keynote presentation discussing the mechanism of CRISPR-Cas13 systems and the engineering methods for nucleic acid detection, presented by Dr. Xue Sherry Gao, Ted N. Law Assistant Professor, Department of Chemical and Biomolecular Engineering at Rice University, followed by Dr. Can Dincer, Junior Research Group Leader, University of Freiburg, Department of Microsytems Engineering-IMTEK summarizing the fundamentals of CRISPR-powered biosensing during his keynote delivery titled, 'CRISPR-Powered Multiplexed Biosensor for Point-of-Care Management of Infectious Diseases' with Live Q&A.
"We've been working to design and engineer new platforms for viral detection since the COVID-19 pandemic started," said Dr. Xue Sherry Gao, Assistant Professor in the Department of Chemical and Biomolecular Engineering at Rice. "Our focus is on platforms that can be used in low-resource setting areas when expensive PCR machines are not available. I would like to share with the audience our work on the identification of a flexible hairpin loop near CRISPR-Cas13's active site. By inserting an RNA binding domain into that unique loop, greatly enhanced the activity of the Cas13 activity in detecting various viruses, including SARS-CoV-2. By coupling with an electrochemical sensor, our engineered Cas13 protein showed attomolar levels of activity without pre-amplification and complex handling of the viral samples."
"Over last few years, we have witnessed great innovations and advances in the field of nucleic acid diagnostics driven by the unique features of the CRISPR/Cas technology," said Dr. Can Dincer, Junior Research Group Leader at FIT & IMTEK, University of Freiburg. "In this keynote presentation, a CRISPR-powered multiplexed biosensing system capable of not only simultaneously detecting nucleic acids but also other molecules like drugs will be presented, as well as the current challenges and future perspectives of CRISPR-based biosensing will be discussed. I'm excited to share our research via Labroots' unique virtual platform."
"Our annual CRISPR virtual event has been a benchmark in the field and continues to highlight creative new CRISPR technologies and further progress genome engineering revolutionizing biological research while making groundbreaking inroads to therapies," said Greg Cruikshank, Chief Executive Officer of Labroots. "We are delighted to host and produce this event for the scientific community to stay up to date on novel research and global trends in CRISPR biology."
Produced on Labroots' robust platform allowing the capability to connect seamlessly across all desktops and mobile devices, the interactive environment delivers a one-stop educational experience. Attendees will visit the lobby with leaderboard and gamification, an auditorium featuring live-streaming video webcasts with live attendee chats during scheduled presentations, an exhibit hall to interact with sponsors and view their products and technologies, a poster hall to explore data and engage in live chat conversations, and featuring a poster competition to give your research a competitive edge, and a networking lounge to make valuable connections with colleagues. By participating, there is a potential to earn up to 1 P.A.C.E. Continuing Education credit per presentation for a maximum of 30 credits.
To register for the event, click here. Join the online conversation and use the hashtag #LRcrispr. Follow @Genetics_LR on Twitter and @GeneticsandGenomics on Facebook to connect with our specialist Genetics & Genomics Writers and stay up to date with the latest Trending News in Genetics & Genomics. Now you can also join our professional community on LinkedIn by being a part of the Genetics & Genomics group!
About Labroots
Labroots is the leading scientific social networking website, and primary source for scientific trending news and premier educational virtual events and webinars and more. Contributing to the advancement of science through content sharing capabilities, Labroots is a powerful advocate in amplifying global networks and communities. Founded in 2008, Labroots emphasizes digital innovation in scientific collaboration and learning. Offering more than articles and webcasts that go beyond the mundane and explore the latest discoveries in the world of science, Labroots users can stay atop their field by gaining continuing education credits from a wide range of topics through their participation in the webinars and virtual events. Now, Labroots offers more than ever with Chati, a flexible, highly scalable event platform that allows for the creation of unique, effective, and memorable virtual events.