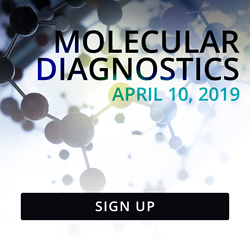 "...the opportunity to hear from scientists that are truly paving the way of how diagnostic tools can be utilized in unique and creative ways."
YORBA LINDA, Calif. (PRWEB) April 04, 2019
LabRoots, the leading scientific social networking website, offering premier, interactive educational virtual events and webinars, produces its 4th Annual Molecular Diagnostics Virtual Event. The theme for this event includes the following tracks, Best Practices in Establishing Value in Laboratory Testing, Disruptive Molecular Technologies, and Digital Diagnostics and Artificial Intelligence.
This one-day event will feature 17 speakers discussing the latest advancements and improvements in Molecular Diagnostics. Presentations will come from professionals such as the keynote, Michael Crossey, M.D., Ph.D., who is the CEO and Chief Medical Officer of TriCore Reference Laboratories, New Mexico's largest medical laboratory. Dr. Michael Crossey will present on the topic of "Laboratory Directed Health Interventions: Effective Examples of Lab 2.0", exploring the paradigm shift in the way diagnostics are deployed.
Attendees will also learn about "Nucleic Acid with CRISPR Diagnostics" from a joint keynote presentation given by Omar Abudayyeh, Ph.D., and Jonathan Gootenberg, Ph.D.. Abudayyeh and Gootenberg are current MIT McGovern Institute Fellows who will discuss the past, present, and future of the CRISPR in molecular diagnostics and technological advances. Abudayyeh was previously at Harvard Medical School and co-led the discovery and characterization of Cpf1 for novel genome editing applications and the first single-protein RNA-guided RNA-targeting enzyme C2c2/Cas13. Gootenberg, also previously at Harvard University, has received multiple awards including, Forbes 30 Under 30 and Business Insider 30 and Under. He and his co-authors developed Cas13 into a toolbox for uses in fundamental research, therapeutics, and diagnostics. To view the agenda, click here.
"Medical information will double every ~75 days as laboratory testing complexity increases," says Bryan Cobb, Director for Clinical Molecular Diagnostics at Roche Diagnostics Corporation and chairman of the planning committee. "With novel, disruptive technologies emerging that provide easier, faster results, delivery of diagnostics is making significant advancements now that patient data can be digitized and integrated. This symposium embodies all of these areas, starting with tips on how the molecular laboratories take advantage of value based healthcare and moving to key innovations that will advance our ability to deliver better diagnostics and precision medicine."
The conference will include the latest advancement in gene detection with speakers Kiana Aran, Ph.D., Co-Founder of Nanosens, Assistant Professor of Biomedical Sciences at Keck Graduate Institute, Visiting Assistant Professor at UC Berkeley, and Brett Goldsmith, Ph.D., CTO at Cardea. Aran will have her first public appearance at the event since the published article on the CRISPR-Chip technology in Nature Biomedical Engineering, presenting on, "CRISPR-Chip: Detection of Unamplified Target Genes via CRISPR/Cas9 Immobilized on a Graphene Biosensors". Goldsmith, co-author of the Nature Biomedical Engineering paper, is the brain behind the graphene biosensors and will present on "Digital Biosensors and the Internet of Biology". Both Aran and Goldsmith worked together to create the technology that allows for quick insight into the human genome and potential identification of genetic disorders via a handheld device. To read more about this, click here.
"The agenda for this is event is one to really get excited about," says Tracy Salcido, Vice President of LabRoots. "Not only will our users be able to explore the latest in molecular diagnostic tools in our exhibit hall and communicate with peers in the networking lounge, but they will also have the opportunity to hear from scientists that are truly paving the way of how diagnostic tools can be utilized in unique and creative ways."
The online virtual event will be produced on LabRoot's robust virtual platform, allowing participants to watch, learn and connect seamlessly across all desktop or mobile devices. The event will begin and conclude on April 10, 2019. To see the complete list of speakers, or register for free, click here.
Like all LabRoots events, participants can earn free continuing education credits. Following each presentation, viewers can click on the educational credit link provided for that specific speaker and follow the required process. Upon completion, you will receive a certificate for the educational credit.
About LabRoots
LabRoots is the leading scientific social networking website, offering top scientific trending news and premier educational virtual events and webinars. Contributing to the advancement of science through content sharing capabilities, LabRoots is a powerful advocate in amplifying global networks and communities. Founded in 2008, LabRoots emphasizes digital innovation in scientific collaboration and learning. We have become a primary source for trending scientific news, webinars, virtual conferences and more. Offering more than articles and webcasts that go beyond the mundane and explore the latest discoveries in the world of science, LabRoots users can stay atop their field by gaining continuing education credits from a wide range of topics through their participation in the webinars and virtual events.