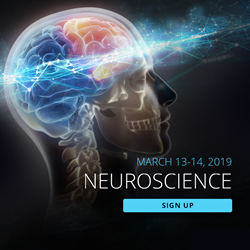 YORBA LINDA, Calif. (PRWEB) March 08, 2019
LabRoots, the leading scientific social networking website, offering premier, interactive educational virtual events and webinars, will be hosting its 7th Annual Neuroscience Virtual Event. There will be three sessions including, Pioneering Our Understanding of the Human Brain, Perspectives on Neuropsychiatric Disorders, and Emerging Roles of the Immune System in Brain Function and Behavioral Processes.
This two-day groundbreaking event brings a number of distinguished professors, science experts, and profound speakers from all over the world, that cover a range of topics providing an extensive exploration of causes and correlations in research. The application of cutting-edge technologies will also be assessed, with opportunities to engage with panels of speakers during live question and answer sessions surrounding BRAIN Initiative Scientific Updates, Neuroethics, Innovative Neurotechnologies, and Clinical Updates. For the complete list of speakers, click here.
To kick off the event, on March 13, 2019 at 6:00 AM PDT, Joshua A. Gordon, MD, PhD, Director of National Institute of Mental Health, the first keynote speaker, will give an update from the National Institute of Health (NIH) on the BRAIN Initiative. He will also provide an overview of challenges and opportunities in mental health research, highlighting the importance of cross-disciplinary, integrative approaches to address the complexities associated with mental illness.
During the second day of the event, Dr. Andreas Meyer-Lindenberg, Director of the Central Institute of Mental Health, Department of Psychiatry and Psychotherapy, at the University Medical Centre Mannheim, will provide his perspectives on Neuropsychiatric Disorders. Dr. Meyer-Lindenberg is the author of more than 300 peer-reviews articles and book chapters in journals, and he has been continuously named as one of the most highly cited scientists in the world. The Neuroscience Virtual Conference brings great opportunity to learn a lot through his award-winning expertise.
The third keynote speaker for Neuroscience 2019 will be Michael Benros, MD, PhD, Research Leader, Mental Health Care Copenhagen, Copenhagen University Hospital. Dr. Benros will be presenting on infections and inflammation as possible causes of severe mental disorders and the potential for new treatment targets.
"This year's event will be unlike any other that we've held before," says Greg Cruikshank, CEO of LabRoots. "We are thrilled about the quality of speakers that will be in attendance and the ability to bring panel discussions to our users, making communication with neuroscience world experts accessible."
Like all LabRoots events, participants can earn free continuing education credits. Following each presentation, viewers can click on the educational credit link provided for that specific speaker and follow the required process. Upon completion, you will receive a certificate for the educational credit.
For more information or to register for the event, click here. Participants can join the conversation online by using #LRneuro.
About LabRoots
LabRoots is the leading scientific social networking website, offering top scientific trending news and premier educational virtual events and webinars. Contributing to the advancement of science through content sharing capabilities, LabRoots is a powerful advocate in amplifying global networks and communities. Founded in 2008, LabRoots emphasizes digital innovation in scientific collaboration and learning. We have become a primary source for trending scientific news, webinars, virtual conferences and more. Offering more than articles and webcasts that go beyond the mundane and explore the latest discoveries in the world of science, LabRoots users can stay atop their field by gaining continuing education credits from a wide range of topics through their participation in the webinars and virtual events.