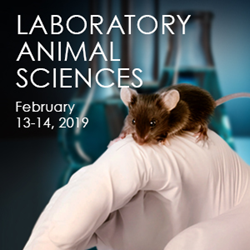 YORBA LINDA, Calif. (PRWEB) February 12, 2019
LabRoots, the leading scientific social networking website, offering premier, interactive educational virtual events and webinars, will be hosting its 8th Annual Laboratory Animal Sciences Virtual Event on February 13th and 14th, 2019, featuring digitization, digitalization and digital transformation as well as non-traditional in vivo and in vitro models.
Digital transformation has affected the clinical phase of the drug development journey by improving efficiencies, patient engagement and allowing for utilization of computational and other technologies. The preclinical in vivo phase is in initial stages of engaging with digitization and digitalization, which presents opportunities for learning from clinical colleagues how to implement these technologies. There is relevance and challenges in drug development with in vivo large animal models (dogs, pigs, cats) and in vitro organ on the chip models as potential solutions. These topics and much more will be discussed during the event this year.
The conference is designed to bring together scientists from basics sciences to bioinformatics, clinicians' veterinary technicians, veterinarians, technical support staff and compliance personnel from around the world to learn about recent advances and challenges within preclinical phases of drug development. This year's event will consist of 16 educational sessions, including two keynote presentations from outstanding speakers with diverse areas of expertise such as credentialed professionals, clinical experts and scientists.
Participants will listen to expert speakers who will make this online format empowering and informative. The list includes, Szczepan Baran, VMD, MS, Head of Emerging Technologies at Novartis, Amy LeBlanc, DVM, DACVIM, Director of the Comparative Oncology Program at the National Cancer Institute, NIH, Claudio Mirti, Principal Solution Specialist, Data and AI, at Microsoft, Chuck Donnelly, CEO & Founder of RockStep Solutions, Sean Maguire, GSK Associate Fellow, Comparative & Translational Sciences at GlaxoSmithKline, Dr. Patrick Sweeney, Founder & Chief Operating Officer at Naason Science, Inc., Dr. Laura Schaevitz, Chief Scientific Officer at Vium, Dr. Danilo Tagle, Associate Director for Special Initiatives Office of the Director National Center for Advancing Translational Sciences at the NIH, Dr. Gorm Yoder, Scientific Director at the Janssen Pharmaceutical Companies of Johnson & Johnson. The presentations will span topic areas covering Digitization, Digitalization, & Digital Transformation, as well as Non-Traditional In Vivo & in Vitro Models.
"We are excited and pleased that so many influential leaders and experts from the laboratory animal science community have committed to speak at LAS this year. Their breadth of experience and leadership in this field will allow for critical and insightful discussions during this virtual event, said Greg Cruikshank, Chief Executive Officer of LabRoots. "LAS 2019 will mark our 8th year of hosting this symposium reflecting our continued focus during its tenure to increase awareness and extend the commitment in addressing the advancements, challenges and alternatives in biomedical research."
Like all LabRoots events, participants can earn free continuing education credits. Following each presentation, viewers can click on the educational credit link provided for that specific speaker and follow the required process. Upon completion, you will receive a certificate for the educational credit.
For more information or to register for the event, click here. Participants can join the conversation online by using #LRlas.
About LabRoots
LabRoots is the leading scientific social networking website, offering top scientific trending news and premier educational virtual events and webinars. Contributing to the advancement of science through content sharing capabilities, LabRoots is a powerful advocate in amplifying global networks and communities. Founded in 2008, LabRoots emphasizes digital innovation in scientific collaboration and learning. We have become a primary source for trending scientific news, webinars, virtual conferences and more. Offering more than articles and webcasts that go beyond the mundane and explore the latest discoveries in the world of science, LabRoots users can stay atop their field by gaining continuing education credits from a wide range of topics through their participation in the webinars and virtual events.