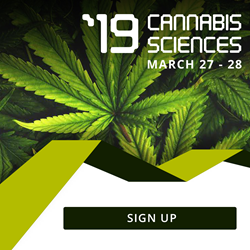 YORBA LINDA, Calif. (PRWEB) March 22, 2019
LabRoots, the leading scientific social networking website, offering premier, interactive educational virtual events and webinars, is pleased to announce the 2019 Cannabis Sciences Virtual Conference. This pioneering two-day, free virtual event will highlight the science and challenges behind cannabis with information from world-class experts, industry leaders, and specialists in Medical Cannabis. Thousands of individuals from all over the world will comprise the online forum. There will be a range of different sessions covering the topics of, "Cannabis Advances & Technology Updates; Making Cannabis Mainstream; Regulatory Landscape; Extraction, Purification and Cultivation; and Analytical Testing."
To launch the event on March 27, 2019, Marcel Bonn-Miller, PhD, a significant researcher with 125 publications, will discuss cannabis research and his current work in conducting clinical trials with cannabis. Widely considered one of the early and leading research pioneers in the field of cannabis and mental health, Dr. Bonn-Miller has conducted seminal work on the interrelations between cannabis and a range of health conditions. To continue on the first day, Dustin Sulak, DO, a keynote speaker, will present "Cannabis for Health Promotion and Disease Prevention." Regarded as a national expert on medical cannabis, Dr. Sulak is also the Founder of Integr8 Health and Co-founder of Healer.com, a medical practice that follows over 8,000 patients using medical cannabis. He will review the evidence supporting the use of cannabis to treat serious disease as well as implementing dosing strategies.
"Serving the educational needs of the dynamic Cannabis market, LabRoots is instrumental in bringing unprecedented insights throughout this premier two-day agenda. As a keynote presenter, I am thrilled to deliver a presentation discussing the data that supports Cannabis as an effective treatment and provide concrete steps for using it to prevent disease and promote your own health," says Dustin Sulak, DO, Founder of Integr8 Health and Co-founder of Healer.com.
One of the highlights of this year's event includes an opportunity to listen and engage in two parent panel discussions around "The Benefits and Challenges of Cannabis in Pediatric Conditions in Legal States," as well as "Everyday Challenges of Being a Parent in a Non-legal State." There will be a chance to collaborate and participate in a question and answer forum surrounding these topics. Following the parent panel, David Mangone, Director of Government Affairs for Americans for Safe Access, the largest non-profit organization in the United States dedicated to advancing legal medical cannabis therapeutics and research, will present on the topic of, "How Federal Policy is Lagging Behind State Cannabis Programs." Mangone has served as an international policy expert on medical cannabis laws and is a respected author.
Participants will have a chance to learn about a keynote presentation, "Considering Cannabis as a Traditional Crop" from Gia Fazio, PhD, an expert in Plant Genetics. Dr. Fazio is an independent consultant who supports the agricultural biotechnology industry. Her lecture will include the examination of agricultural management of cannabis today and new avenues of research that will advance crop research.
On the second day of the event, CEO and Director of Translational Research at the International Research Center on Cannabis and Mental Health, Jan Roberts, another keynote speaker, will present "Cannabis for Mental Health: What Consumers Need to Know" and highlight the positive implications of cannabis on mental health. Ms. Roberts is a recognized leader in the field of cannabis and mental health and has a proficient background in clinical social work. To continue on the second day, "The Intersection of Nutrition, Microbiome and Medical Cannabis" will be discussed by Debra Kimless, MD. Dr. Kimless is the Medical Director of ForwardGo, a medical cannabis cultivation and processing company. She has studied under some of the most respected medical cannabis experts and has become a passionate advocate for medical cannabis.
Chairman of this event's planning committee, Kent Crowley, Pharm. D., will end the event on the last day discussing, "Using Cannabis: What You Need to Know to Get Started Safely." Dr. Crowley is the Director of Research & Product Development at Silver State Trading and has over 30 years of experience in pharmaceutical industry and clinical medicine. He is the founder and creator of Trokie®, a patented buccal delivery system for cannabis. For the complete list of speakers, click here.
"With over 12,000 in attendance at this year's Cannabis Event, we are honored to bring exceptional academia and industry experts to connect with our participants from all over the world, covering a wide range of topics in the Medical Cannabis Field," says Tracy Salcido, Vice President of LabRoots, Inc.
Like all LabRoots events, participants can earn free continuing education credits. Following each presentation, viewers can click on the educational credit link provided for that specific speaker and follow the required process. Upon completion, you will receive a certificate for the educational credit.
For more information or to register for the event, click here. Participants can join the conversation online by using #LRcannabis.
About LabRoots
LabRoots is the leading scientific social networking website, offering top scientific trending news and premier educational virtual events and webinars. Contributing to the advancement of science through content sharing capabilities, LabRoots is a powerful advocate in amplifying global networks and communities. Founded in 2008, LabRoots emphasizes digital innovation in scientific collaboration and learning. We have become a primary source for trending scientific news, webinars, virtual conferences and more. Offering more than articles and webcasts that go beyond the mundane and explore the latest discoveries in the world of science, LabRoots users can stay atop their field by gaining continuing education credits from a wide range of topics through their participation in the webinars and virtual events.