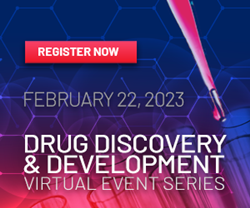 YORBA LINDA, Calif. (PRWEB) February 16, 2023
Labroots, the leading scientific social networking website offering premier, interactive virtual events and webinars, is hosting its Drug Discovery & Development virtual event on February 22, 2023. The 6th annual free event in the Drug Discovery & Development Virtual Event Series, is a dynamic reputable forum bringing together thousands of innovative research scholars, clinicians and scientists across leading, medical, industry, and academic professions from around the world.
The one-day informative agenda will feature over fifteen educational and sponsored presentations featuring the latest scientific findings while showcasing distinguished speakers in the field including, a keynote delivery by Professor Kevin Pfleger, PhD, Director of Biomedical and Health Innovation at The University of Western Australia explaining how molecular pharmacology approaches can be used to profile potential drug candidates prior to preclinical development.
"My laboratory has spent the last 20 years developing a molecular pharmacology profiling platform that is able to monitor various facets of receptor binding, signalling and trafficking in live cells and in real-time," said Professor Kevin Pfleger, Director of Biomedical and Health Innovation at The University of Western Australia and Head of Molecular Endocrinology and Pharmacology at the Harry Perkins Institute of Medical Research. "This has uncovered novel pharmacology that underpins drug development by Dimerix and RAGE Biotech, with Dimerix progressing well beyond preclinical development into Phase 3 clinical trials. I'm excited to highlight these capabilities through Labroots' unique platform."
Drug Discovery & Development 2023 promises to deliver on its commitment of bringing emerging topics to the forefront of the scientific community such as Improved Models in Drug Discovery and Preclinical Development, New Methods in PK/PD and Pharmacogenomics, and Biomarker Applications in Clinical Development.
These sessions (not limited to) will cover characterization of anti-HER2 antibodies using advanced flow cytometry and BLI label-free detection and get pipetting right – tips and tricks for accurate and reproducible results - both talks with live Q&A and sponsored by Sartorius; and using single B technology to develop lead antibody molecules on GPCR targets with live Q&A, sponsored by DIMA Biotech. Spanning the day, additional presentations on demand for immediate viewing when the event is live explore avoiding In Vivo study pitfalls, current use of GPCR pharmacogenomics in clinical practice, innovative biomarker spatial analysis for comprehensive tissue immunophenotyping, PDX/PDO models for precision cancer medicine beyond mutations naming just a few and much more, you won't want to miss!
Produced on Labroots' robust platform, this online event allows participants to connect seamlessly across desktop and mobile devices, delivering a one-stop complete educational experience. The interactive environment includes a lobby equipped with a leaderboard and gamification, an auditorium featuring live-streaming video webcasts with live attendee chats during scheduled presentations, an exhibit hall to interact with sponsors highlighting contributions in the field, a poster hall to explore data and engage in live chat conversations complete with a poster competition giving your research a competitive edge, and a networking lounge to encourage collaborations with colleagues. By participating, there is a potential to earn up to 1 P.A.C.E. Continuing Education credit per presentation for a maximum of 30 credits.
To register for the event, click here. Remember to use the hashtag #LRdrug to follow the conversation and connect with other members of the global Drug Discovery & Development community!
Follow @DrugDiscoveryLR on Twitter and @DrugDiscoveryandDevelopment on Facebook to connect with our specialist Drug Discovery & Development writers and stay up to date with the latest Trending News in Drug Discovery & Development. You can now also join our Drug Discovery, Development, & Therapeutics professional networking group on LinkedIn!
About Labroots
Labroots is the leading scientific social networking website, and primary source for scientific trending news and premier educational virtual events and webinars and more. Contributing to the advancement of science through content sharing capabilities, Labroots is a powerful advocate in amplifying global networks and communities. Founded in 2008, Labroots emphasizes digital innovation in scientific collaboration and learning. Offering more than articles and webcasts that go beyond the mundane and explore the latest discoveries in the world of science, Labroots users can stay atop their field by gaining continuing education credits from a wide range of topics through their participation in the webinars and virtual events. Labroots offers more than ever with Chati, a flexible, highly scalable event platform that allows for the creation of unique, effective, and memorable virtual events.