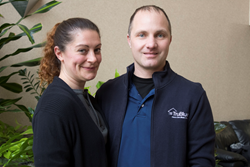 TruBlue is an outstanding fit for us and it gives us an opportunity to raise the bar in the maid, handyman, repair and remodeling industry here in Lincoln. We are a full-service home maintenance company and our focus is quality work and outstanding customer service. - Ryan Reinke
LINCOLN, Neb. (PRWEB) October 02, 2018
Experienced property management team Laci and Ryan Reinke are pleased to announce the launch of their new business, TruBlue of Lincoln.
TruBlue offers handyman services, house cleaning services, emergency repairs, seasonal projects, yard/lawn care, snow removal, a home watch program, a senior accessibility program and more. TruBlue is a great option for busy families and seniors who want the comforts of their own home without worrying about property maintenance. TruBlue also works with homeowners, realtors and rental property owners who need to quickly get homes move-in ready and keep them maintained, and provides commercial services for business clients. TruBlue of Lincoln serves all of Lincoln and the surrounding communities.
"TruBlue of Lincoln is a full-service company and we can take care of just about any project in and around your home, from maid services to remodeling. We want to build relationships with our customers so they have someone they trust – we want our clients to like working with our team. TruBlue takes the hassle out of owning a home," Laci said.
Laci and Ryan bring a combination of experiences with a strong history in accounting, business and financial management, construction, remodeling and project management. Ryan and Laci are parents of twins – a boy and a girl, with another boy on the way. They have been in the property management business for more than 18 years. The two were recently recognized by Everett Neighborhood Association for their years of remodeling and positive changes in the downtown Lincoln area.
"TruBlue is an outstanding fit for us and it gives us an opportunity to raise the bar in the maid, handyman, repair and remodeling industry here in Lincoln. We are a full-service home maintenance company and our focus is quality work and outstanding customer service," Ryan said.
TruBlue is also different because of the quality of their team. TruBlue of Lincoln is fully insured and bonded and all employees are background checked, but Ryan and Laci are taking that step further to ensure their employees are the best professional craftsman available.
"We have only hired people we would trust to do work in our own home and we think our clients will like working with them – and with us, their neighbors. We were both raised in rural areas and we appreciate that Lincoln is like an overgrown small town in a lot of ways. We love it here," Laci said.
To learn more about TruBlue of Lincoln, call (402)438-6776, email LincolnOffice(at)TruBlueHouseCare(dot)com, or visit http://www.TruBlueLincoln.com or https://www.facebook.com/TruBlue-Total-House-Care-446685299166326/.
About TruBlue
TruBlue provides one convenient and affordable solution for all your house care needs – inside and out. TruBlue's services include house cleaning, household repairs, yard work, emergency repairs and seasonal work, all handled by a personal House Care Manager. These affordable services are available year-round and customized to meet your needs and budget. TruBlue strives to provide affordable, worry-free living for seniors and hassle-free living for busy adults with the goal of eliminating the worries, hassles and headaches of home maintenance by providing full-service, trustworthy house care services. TruBlue even offers owners financing for the larger remodeling and property projects. Watch for TruBlue to the Rescue projects which are designed to reach out to neighbors in need of volunteer assistance.