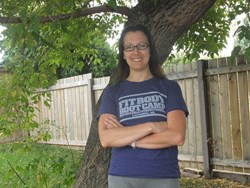 My dream is to share with the community of Lacombe my excitement and passion for health and fitness.
Lacombe, AB, CAN (PRWEB) September 04, 2013
In an effort to give back and say thanks to the community for an excellent year, the popular Lacombe fitness center, Fit Body Boot Camp, will celebrate its one year anniversary by hosting a family fun charity event on Saturday, September 7th starting at 11am until 2pm at its boot camp location found at 101-3402 Hwy 12, Lacombe, AB T4L 1A7.
Activities for the one year anniversary celebration include giveaways, games, and food for everyone who attends. Local businesses are also slated to attend and raffle off prizes. Proceeds from the event will be donated to the Youth Centre of Lacombe, a charity whose mission is to provide support and services to Lacombe's youth.
Lacombe Fit Body Boot Camp first opened its doors in September of last year and has been welcomed by the community ever since. Owner and operator of the Lacombe gym, fitness expert Denise Harty says, "Opening a facility where I could share my passion for fitness and nutrition was a goal I had for many years. I opened Lacombe Fit Body Boot Camp one year ago in hopes to create a community where we can inspire and motivate each other to reach our highest potential. I have made it my mission to help 3,000 local Lacombe residents get active. I can proudly say one year later we are changing lives and having a ton of fun in the process."
Harty admits that she got into personal training because the hectic family life she was leading in her 20's made it impossible for her to lose the "baby weight' in the years that followed her pregnancy. She says, "I tried many different forms of exercise in an attempt to regain my self confidence, but I never achieved results that were satisfactory. In fact, the experience left me feeling even more frustrated that despite my efforts I was still not as healthy as I desired."
After finally losing the weight and getting in shape through hard work and training, Harty became passionate about fitness and decided to share her passion with Lacombe by opening up a Fit Body Boot Camp in the area. She explains, "My dream is to share with the community of Lacombe my excitement and passion for health and fitness. We have excellent exercise and nutrition programs that have been proven to get you the results you seek. We will teach you how to lose pounds without counting calories or being on a restricted diet, and you will be able to tighten, tone and lose inches at the same time."
About Lacombe Fit Body Boot Camp
Fit Body Boot Camp Lacombe is part of the family of Fit Body Boot Camp fitness boot camp franchises, whose global initiative is to expose and engage 20% of the world's population in a healthy and fit lifestyle by the year 2020. Fit Body Boot Camp Lacombe is owned and operated by Denise Harty. Holding multiple certifications for personal training and nutrition such as Can Fitpro, TRX Suspension Training, Precision Nutrition as well as a Bachelor of Science in Holistic Nutrition, Denise is committed to helping members of the Lacombe community set and accomplish their own health and fitness goals, and to positively change their lives. For more information about Fit Body Boot Camp Lacombe or the Fit Body Boot Camp franchise, please visit https://www.facebook.com/LacombeFitBodyBootCamp and http://www.myfitbodybootcamp.com/