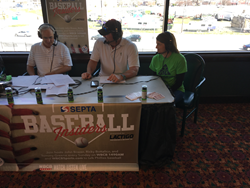 "When I first rubbed LactiGo on my shoulders prior to working out, I noticed that they were not as sore and I was able to do more and harder work in the gym. I also wasn't as sore after workouts." - Tommy Greene
DOYLESTOWN, Pa. (PRWEB) April 08, 2019
LactiGo, Inc. today announced the introduction of LactiGo Performance and Recovery Gel in the Greater Philadelphia area. As part of this regional launch, the company also announced a partnership with Bucks County radio station WBCB (1490 am) to serve as the presenting sponsor of the station's radio program, "Baseball Insiders" with Ricky Bottalico and Tommy Greene.
"We are excited to bring LactiGo to Philadelphia," says LactiGo, Inc. CEO Terry Herring. "This is a great sports town with an increasingly active population. With so much sports and fitness activity, including running, biking, swimming, and other team sports, trips to the gym, and physical activities, achy sore muscles are a common natural result. Using LactiGo rub on-gel before and after physical activity increases performance, minimizes muscle soreness, and helps speed training recovery."
LactiGo uses a blend of menthol and carnosine to penetrate through the skin where it aids in relieving muscle soreness associated with Lactic Acid buildup.
"I have a pretty strict workout routine," states former Phillies pitcher and radio show host Tommy Greene. "I like to take care of my body and stay physically fit. When I learned that LactiGo was going to be involved with 'Baseball Insiders,' I was eager to give it a try.
"I have tenderness in my shoulder that goes back to my pitching days and the various surgeries that I've had. When I first rubbed LactiGo on my shoulders prior to working out, I noticed that they were not as sore and I was able to do more and harder work in the gym. I also wasn't as sore after workouts."
A team of LactiGo "ambassadors" will be on site at each "Baseball Insiders" broadcast throughout the Phillies season. The program is aired live on location 90 minutes before each Sunday Phillies game.
When the Phillies have a home game, the show is hosted at the South Philadelphia Race and Sports Book (the former Turf Club) at 700 Packer Avenue. When the Phillies play away games, the show will be broadcast at various locations in the Greater Philadelphia region and down at the New Jersey Shore.
"We're looking forward to our show involvement," says Herring. "People will have an opportunity to sample LactiGo during each event, interact with our LactiGo ambassadors where they can ask questions about the product, and they will receive 50 percent off coupons that can be redeemed through our website, LactiGo.com."
To learn more about LactiGo, please visit LactiGo.com. If people are interested in trying the product yet are unable to attend a sampling event and secure a 50 percent off coupon, for a limited time the LactiGo team is opening up sales on the product website where the same 50 percent discount offer will apply. Customers should use the promotional code "PR50."
ABOUT LACTIGO
LactiGo is an effective, fast-acting topical gel with menthol and carnosine that helps people maximize their athletic performance and speed muscle recovery. Applied directly to the skin above the desired muscles for targeted relief, this topical gel is informed-sport certified. Distributed by LactiGo, Inc., headquartered in Las Vegas, LactiGo is available online at lactigo.com.