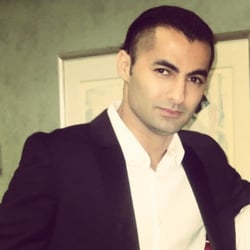 Los Angeles, CA (PRWEB) December 07, 2016
LAD Solutions has recently announced that one of its partners, Ali Pourvasei, has completed the Google Partners Specialist Challenge. This achievement marks an important milestone for the company and their clients now that LAD Solutions has staff with more experience.
The Specialist Certification Challenge was offered by Google in August 2016. In this challenge, digital agency partners were required to pass 5 Adwords Advertising Exams by September 23, 2016 in order to have the opportunity to be recognized as an Adwords Specialists and to receive special edition framed Specialist Certificates. The campaign was open to agencies in the US and Canada. After passing these exams, marketers are highly qualified to deliver advanced Google Adwords management to their clientele.
Ali Pourvasei has passed the following Google Adwords Advertising Exams: Adwords Fundamentals, Search Advertising, Display Advertising, Mobile Advertising, Video Advertising and Shopping Advertising. As a result, he is now considered as a Google Adwords Specialist, which is a unique distinction that very few marketing professionals have managed to obtain.
LAD Solutions, a Premier Google Partner, is a Los Angeles-based digital agency providing search engine optimization, pay per click management, social media management, web design and development, and reputation management services to clients. The company offers a full range of online marketing services targeted to the needs of small businesses. With clients throughout the country and the recent educational achievements of its partners, the company is positioning itself for growth in 2017.
Online marketing encompasses a variety of techniques like SEO that are designed to help businesses rank higher in the search engines. By utilizing the techniques that are recommended by Google, LAD Solutions has helped their clients to achieve higher search engine rankings and better online visibility. Online marketing is an essential tool for today's businesses that are looking to attract new customers and leads through their online channels.
For clients that are interested in learning more about the unique approach to internet marketing offered by LAD Solutions or would like to request a quote for services, the company has requested that inquiries be made via the LAD Solutions website.
About LAD Solutions: LAD Solutions is a Los Angeles-based digital agency offering online marketing services to small businesses throughout the Los Angeles area and across the country. Founded by Lakshmi Kodali, Ali Pourvasei, and David Barkhordari, LAD Solutions utilizes specific Google-approved marketing strategies to help businesses increase their online visibility and traffic through implementations of SEO, PPC and other strategies. To learn more about the online marketing services offered by LAD Solutions, go http://www.ladsolutions.com.