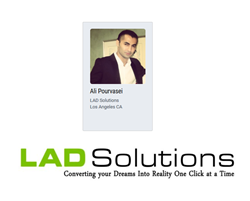 Los Angeles, CA (PRWEB) September 19, 2017
LAD Solutions has announced that Ali Pourvasei, a co-founder of the company, has been accepted to the FounderSociety. FounderSociety is an invitation-only organization comprised of ambitious founders and business owners. The acceptance to organization was just announced this month when Pourvasei became a member as of August 8, 2017.
FounderSociety is a closed-community of founders and is designed to provide a highly engaging setting to promote personal development, as well as the growth of the founders' businesses.
Per a recent article published to Enterpreneur, FounderSociety is "...on a mission to take community management to the next level-- and are proving that their concierge-level approach could mean the end for old-school professional organizations."
FounderSociety offers a number of benefits for its members, including knowledge share and networking. Through its highly engaged community, founders can connect with their peers to share expertise, learn from each other, and solve business challenges in a private setting.
In order to qualify for FounderSociety membership, the candidate must be 40 or younger, founder or co-founder of an existing business venture, and have a minimum annual revenue of $500,000. The organization also only looks for early stage businesses with high-growth potential.
Founders are also more likely to be selected for membership if they've already had success in a given industry having been recognized by reputable organizations, such as Inc. 30 Under 30, Forbes 30 Under 30, Crains 40 Under 40, Business Journals 40 Under 40, Entrepreneur 30 Under 30, et al. Members are also encouraged to make a commitment to giving back to the community through volunteering, investing, donating, and mentoring.
Mr. Pourvasei says that he is honored to have been selected as a member of FounderSociety and is planning to make a full commitment to the organization's goals. Additionally, LAD Solutions will benefit directly from Pourvasei's membership role within FounderSociety given that members have access to exclusive branding opportunities, as well as business services, travel benefits, and a workspace network.
To learn more about FounderSociety, more information is available on the organization's website at foundersociety.co. Additionally, Pourvasei has requested that all media inquiries and interview requests regarding this announcement be made directly to LAD Solutions via the company's website.
About LAD Solutions: LAD Solutions is a nationally recognized, full service digital agency. The company specializes in Search Engine Optimization (SEO), Paid Advertising (PPC) and Web Design & Development and works with businesses and organizations throughout the United States. Founded by SEO experts, Lakshmi Kodali, Ali Pourvasei, and David Barkhordari in 2010, LAD Solutions continues to expand. To learn more about the marketing services offered by LAD Solutions, go to https://ladsolutions.com/.