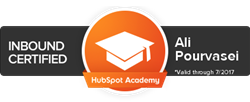 Los Angeles, CA (PRWEB) July 21, 2016
LAD Solutions has recently announced that one of its directors, Ali Pourvasei, has obtained his HubSpot Inbound Certification. This achievement marks an important milestone for the company by allowing it to provide professional level inbound marketing services to clients.
The inbound marketing certification course offered by HubSpot is a complete training course that is designed to educate SEOs on the essentials of inbound marketing. This course covers lead nurturing, conversion analysis, SEO, blogging, and landing page design to assist SEOs in producing better results for their clients. In addition, the course is backed by HubSpot, a nationally recognized advocate for the inbound marketing concept.
Inbound marketing refers to those marketing activities that are designed to bring visitors in, rather than the marketer having to go out and get the attention of prospects. This strategy primarily focuses on achieving the goals of earning the attention of customers, making the company easy to be found, and drawing customers into the company's website by creating interesting content.
After passing the exam, students are highly qualified to pursue professional inbound marketing strategy work with clients who need help with attracting more leads and sales to their businesses. To date, over 30,000 marketing professionals have received this certification.
LAD Solutions provides Search Engine Optimization, PPC management, social media management, web design and development, and reputation management services to clients. With the expansion of its consulting services to include inbound marketing, clients can now receive a comprehensive marketing solution that will allow them to achieve the benefits of inbound marketing while taking advantage of a full range of online marketing tools to improve their results online.
Inbound marketing is currently one of the most effective strategies for increasing conversion rates and attracting new leads. As a result, LAD Solutions strives to become one of the leading providers of inbound marketing services by investing in professional certifications for its employees. With this new certification, the company is also better able to assist companies with refining their online marketing strategies to incorporate the best practices of inbound marketing.
For any clients that are interested in learning more about LAD Solutions unique approach to inbound marketing or would like to request a quote for services, the company has requested that inquiries be made via their website.
About LAD Solutions: LAD Solutions provides a full range of online marketing services to small businesses throughout the Los Angeles area and across the nation including SEO, pay per click marketing, and web development. The company was founded by SEO experts, Lakshmi Kodali, Ali Pourvasei, and David Barkhordari. LAD Solutions helps businesses to increase online visibility and drive traffic via their advanced online marketing techniques. To learn more about the marketing services offered by LAD Solutions, go http://www.ladsolutions.com.