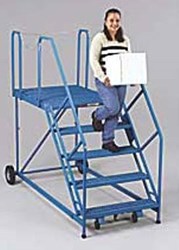 Next step ultra wide rolling ladders are a popular item. These ladders are probably the safest we offer.
Boston, Massachusetts (PRWEB) August 20, 2013
How does A Plus Warehouse decide the product of the day? First of all the product must have something very unique about it. An everyday cabinet would not make product of the day. Secondly, it must peak customer interest or have the ability to peak customer interest. This point goes hand and hand with the first point. Lastly, the products must be different from each other. Different cabinets cannot be product of the day in the same week. After checking off all of these criterion the company ends up with a product of great value. Having a product of the day narrows a list of thousands of products down to just one. It is easy to miss a product when quickly skimming through the website. Today's product of the day is the next step ultra wide rolling ladders. According to Ed Stairman, president of A Plus Warehouse, "Next step ultra wide rolling ladders are a popular item. These ladders are probably the safest we offer."
These industrial ladders have a 36 inch tread width. This type of width is unheard of for a majority of ladders. Many companies don't even offer ladders that wide. At A Plus Warehouse however, the company fills the needs of every customer. Having a width this long makes the product extremely safe. It would be extremely difficult to miss a step with this product. It is as if the step is screaming, " hey I am here." The product also has a 50 degree slope. This also adds to the safety of this product. If a person trips on this ladder, then they are probably extremely clumsy. It is almost impossible to trip over this ladder. This ladder meets or exceeds all OSHA and ANSI requirements. At the top of this ladder lays a platform. This is why the item is typically used as a truck and dock access ladder. The platform measures 36 X 49 with an 800 pound capacity. Front and side have snap chains for easy access as well. A picture of the next step ultra wide truck ladder is shown to the right. Although these ladders are typically sold more locally, the company can product CAL OSHA for a reasonable upcharge. Customers should order this item today they will not be displeased.
A Plus Warehouse is the operator of http://www.apluswhs.com and distributes materials handling and storage equipment nationwide and throughout Canada. The sales staff at A Plus Warehouse is available at 800-209-8798. A Plus Warehouse has been in constant operation since 1996.