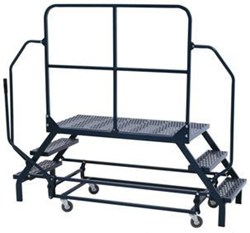 The Double Access Platform is a Great Product for Any Customer, Especially Our Canadian Customers
Olympia,Washington (PRWEB) August 01, 2013
A Plus Warehouse enjoys picking different products for customers to check out. This is how the company came up with the idea of having a product of the day. Today's product of the day is the Double Access Platform. It is the hopes of the company that this article helps to get customers interested in this product. According to Ed Stairman, president of A Plus Warehouse, " The Double Access Platform is a great product for any customer, especially our Canadian customers." Ed specifically mentions Canadian customers because this item ships from Quebec.
In fact, A Plus Warehouse caters to Canadian customer by having a whole line of products shipped from Quebec. Products in this line include the High Rise Pull and Roll Ladder, One Step Ladder, Rolling Ladder Without Handrails, Rolling Ladder with Handrails, Low Rise Pull and Roll Ladder, and of course the Double Access Platform. A Plus Warehouse understands the struggle of Canadian customers finding quick shipment times. This line is a relief to Canadian customers. All of these industrial ladders are extremely popular products.
Industrial ladders are needed in any warehouse. Ladders allow customers to gain elevation. There are times when a customer will need to reach an item that is on a 20-foot high pallet rack. Fortunately, not even the tallest person in the world is 20 feet. Imagine trying to get into a car! Another possible option is climbing the pallet rack. Although this seems extremely fun, this task is dangerous. A Plus Warehouse guarantees that if a person gets crushed by a 20 foot pallet rack, it will not be a good they for them. So unless a person is going to magically grow, they need an industrial ladder.
Double Access Platform is a great product that will not disappoint customers. The product has 600-pound capacity, which allows for multiple workers on the platform at the same time (unless one of the workers is extremely fat!). Pull and roll lever also makes ladder placement simple. This product is also extremely safe. It has a 50-degree stair slope. It fulfills ANSI 14.7 and OSHA1910.29 safety requirements. The product is available with a platform length of 48, 63, or 70 inches as well. Customers should consider ordering a Double Access Platform today.
A Plus Warehouse is the operator of http://www.apluswhs.com and distributes materials handling and storage equipment nationwide and throughout Canada. The sales staff at A Plus Warehouse is available at 800-209-8798. A Plus Warehouse has been in constant operation since 1996.