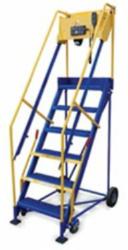 Come Check Out Our Rolling Ladders, They Are Great!
Honolulu,Hawaii (PRWEB) July 07, 2013
Customers enjoy good quality items at an inexpensive price. It is with great excitement that A Plus Warehouse announces a 20% decrease in price on the Fantasy Rolling Ladders. This price decrease sounds great but what exactly is a Fantasy Rolling Ladder, a customer may wonder. The kind folks at A Plus Warehouse have an answer to this question.
As the name suggests this ladder is truly a fantasy. It is so fantastic it seems that a ladder like this would only be available in a dream. This rolling ladder is already popular among customers, and the company sincerely hopes that having a price decrease will encourage new customers to check out this ladder. These heavy duty ladders have a power tray that can hold 100 pounds. The actual ladder has a 350 pound capacity. With this amazing fantasy ladder, a customer can walk up the ladder as the power tray carries the load. This not only is more convenient but safer as well. The power tray measures 22 in W X 10 in D X 8 in H. The tray operated on a 110VAC battery; a battery charger is also included in the package. Steps are 7 inches deep with a grit strut top platform of 24 W X 20 D. This product also ships KD to save even more money. Customers should consider A Plus Warehouse Fantasy Rolling Ladders. When ordering, customers should also be aware that a detachable lift and lower control is also available. This allows for additional flexibility.
On the topic of rolling ladders, A Plus Warehouse's ladders shipped from Quebec Line for Canadian customers. Ordering these items significantly decreases shipping times. Items in this line include One Step Ladder, Rolling Ladders Without Handrails, Rolling Ladder with Handrails, Low Rise Pull and Roll Ladders, High Rise Pull and Roll Ladders, and Double Access Platforms. These are all high quality products that the company highly suggests. With a growing number of Canadian customers, it is important for A Plus Warehouse to have a line such as this one. Often times it can be difficult to ship to Canada, so this line is a relief to many Canadian customers. A Plus Warehouse takes pride in giving customers only the best service, and they would expect no less.
A Plus Warehouse is confident that customer will enjoy these new medical carts. A Plus Warehouse is the operator of http://www.apluswhs.com and distributes materials, handling and storage equipment nationwide and throughout Canada. The sales staff at A Plus Warehouse is available at 800-209-8798. A Plus Warehouse has been in constant operation since 1996.