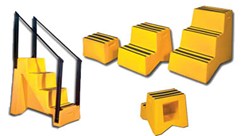 Buy your plastic stairs from the Stairman! Who else would you buy them from?
New York, NY (PRWEB) August 07, 2013
Ed Stairman, president of A Plus Warehouse, sells stairs. In fact, many customers get confused about Ed's last name. This is Ed's real last name. It is destiny, customers were meant to purchase stairs from the stairman. According to Ed, "Buy your plastic stairs from the Stairman! Who else would you buy them from?" In all seriousness though, A Plus Warehouse sells great quality stairs. This is why the company is choosing Plastic Portable Stairs as its product of the day. Product of the day is a fairly new concept. The goal of the program is to give customers an overview of some of the company's best products. A Plus Warehouse offers such a wide variety of products that it is easy to miss a few. The company hopes having the product of the day will help engage customers. As mentioned earlier, today's product of the day is Plastic Portable Stairs.
This product falls under A Plus Warehouse's ladders line. This has always been an extremely popular line. Many customers need industrial ladders to reach stored equipment. Without a ladder, a worker may try to climb the pallet rack to reach equipment. This is obviously extremely dangerous. If the pallet rack falls on top of the worker, then it is game over. Ladders may cost money, but they save lives. Every ladder sold at A Plus Warehouse serves a different purpose. Many of the company's ladders are also rolling for mobility. This makes life much more convenient.
Now it is time to discuss Stairman's stairs. Plastic Portable Stairs is a popular item at A Plus Warehouse. This item also happens to have a quick shipping time. When customers want a product, they do not want to wait. Unfortunately, it is impossible to get customer product a minute after they order it, but this product is in stock. This drastically cuts shipping times. These stairs have a 500-pound capacity. So unless a person is Guinness book of world records fat, they should be fine. The rear opening can access storage compartment inside of the steps as well. Also, this product features a non-skid step surface. Customers should consider ordering this product today.
A Plus Warehouse is the operator of http://www.apluswhs.com and distributes materials handling and storage equipment nationwide and throughout Canada. The sales staff at A Plus Warehouse is available at 800-209-8798. A Plus Warehouse has been in constant operation since 1996.