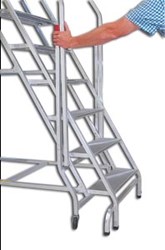 Many customers enjoy our rolling ladders. The aluminum rolling ladder is one of our many fantastic rolling ladders.
Charleston, West Virginia (PRWEB) September 16, 2013
A Plus Warehouse is fully aware that having a product of the day sounds a bit cheesy. However friends at A Plus Warehouse believe that cheesy is fun. Customers also compliment A Plus Warehouse staff on being very friendly and personable. The company takes pride in this fact. The goal of product of the day is to introduce customers to a variety of products. A Plus Warehouse chooses a different item every single day. Items come from many sections of the A Plus Warehouse website. The company tries to evenly distribute the product of the day between different lines. The product of the day is normally a product that stands apart from the other products. Today's product of the day is the aluminum rolling ladder. According to Ed Stairman, president of A Plus Warehouse, "Many customers enjoy our rolling ladders. The aluminum rolling ladder is one of our many fantastic rolling ladders."
As Ed mentioned, A Plus Warehouse offers many different types of rolling ladders. Rolling ladders are a necessity for any material handling system. Industrial ladders are the safest and easiest solution for storage retrieval. This is much easier than climbing on shelving to obtain inventory. Even if a person is able to climb shelving it could very easily fall and kill or permanently injure employees. A Plus Warehouse cares about customer safety. One of the companies biggest rule is don't kill customers! Obviously having a rolling ladder is better than a non-rolling ladder when moving from one place to another. Customers should order rolling ladders from A Plus Warehouse today.
It is now time to discuss aluminum rolling ladders. This item is shown to the right. Aluminum has many benefits including the fact that it is corrosion resistant. This is a fancy term for the ladder will not rust. If a person see's a new and a 10 year old aluminum ladder side by side, it is almost impossible to tell which one is older. It is also anti magnetic and extremely easy to clean. This ladder has a 300 pound capacity and is available nationwide. This product is truly a great value. Customers should order theirs today.
A Plus Warehouse is the operator of http://www.apluswhs.com and distributes materials handling and storage equipment nationwide and throughout Canada. The sales staff at A Plus Warehouse is available at 800-209-8798. A Plus Warehouse has been in constant operation since 1996.