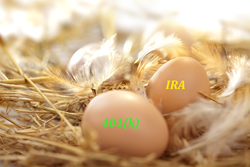 Upon retirement, savers can follow a few strategies to help minimize taxes on withdrawals on 401(k) and IRA accounts.
MIAMI (PRWEB) July 31, 2016
Retirement advisor Michael Ladin of Ladin Financial Group released a new blog titled, "6 Ways Roth IRAs are different from Roth IRA," a quick study for pre-retirees with one or both of the retirement savings vehicles to help clarify important differences between the two.
According to Ladin, individuals who contribute to a Roth 401(k) or Roth IRA can watch their savings grow without the burden of paying taxes on it each year. Additionally, upon retirement, savers can follow a few strategies to help minimize taxes on withdrawals on these accounts.
However, there are some significant differences between a Roth 401(k) and a Roth IRA that can have important implications on one's retirement finances. Some of the most important ways the rules differ between a Roth 401(k)s and a Roth IRAs are:
Participation

Roth 401(k)s are only available if the employer provides them. Companies are increasingly adding Roth 401(k)s to their retirement benefit plans, but it appears that not many employees are taking advantage of the benefit. According to RothIRA.com, only 10 percent of workers save in the Roth 401(k) when it's offered.
Roth IRAs are available to people with earned income whose adjusted gross income is less than $132,000 for individuals and $194,000 for married couples in 2016, according to RothIRA.com. Eligibility to contribute the full amount to a Roth IRA starts to be phased out if once the account holder's adjusted gross income exceeds $117,000 for individuals and $184,000 for married couples.
Roth 401(k)s have bigger contribution limits. Roth 401(k)s have a much higher contribution limit than Roth IRAs. Account holders can save as much as $18,000 annually in a Roth 401(k), and make catch-up contributions worth an additional $6,000 at age 50 or older, according to the IRS. Individuals can only contribute up to $5,500 to a Roth IRA, and the catch-up contribution is limited to another $1,000.
Roth IRAs have a later contribution deadline. Roth 401(k) deposits generally need to be made during the calendar year. Account holders can make Roth IRA contributions up until their tax filing deadline in April, according to the IRS. However, they will need to indicate which tax year which they would like their Roth IRA contribution applied. If a year is not specified, Roth contributions will be automatically applied to the calendar year in which the deposit is made.
The employer's 401(k) match will go in a separate account. Some employers match Roth 401(k) contributions, but the company contribution won't be deposited in the Roth account.
The 401(k) match will be deposited in a traditional 401(k) account, and the account holder will owe income tax on the employer contributions and the investment earnings when they withdraw the money from the account. There's no option to get matching funds on Roth IRA contributions.
Roth IRAs don't have withdrawal requirements. One of the major perks of saving for retirement in a Roth IRA, according to Ladin, is that there are no withdrawal requirements in retirement. The earnings will continue to grow tax-free until the account holder withdraws the money or passes it on to their heirs. However, distributions from Roth 401(k)s are typically required each year after age 70 ½. If the account holder is still working for a company in which they do not have an ownership stake, they can delay withdrawals from the Roth 401(k) until they actually retire.
Different application of the early withdrawal penalty. If an account holder needs to tap into their Roth account savings before age 59 ½, they might need to pay a 10 percent early withdrawal penalty on the portion of the withdrawal that comes from investment earnings. That penalty is applied differently, depending on what type of account the money is being withdrawn from.
When an account holder takes an early withdrawal from a Roth IRA, their nontaxable contributions to the account are distributed before the taxable earnings. If they don't withdraw more than the amount they contributed to the account, they won't owe income tax on the distribution. Early withdrawals from Roth 401(k)s are prorated between contributions and investment earnings, so a portion of an early Roth 401(k) distribution is likely to be taxable. However, the account holder might be able to get around the tax if they instead take a loan from their Roth 401(k), which is not a taxable event unless they don't repay the loan on time. Loans from IRAs are not allowed.
Both a Roth 401(k) and Roth IRA can be used to create tax-free retirement income. The money in these accounts can be withdrawn without tax implications once the account holder reaches age 59 ½ and the account is at least 5 years old. However, it's important to pay close attention to the idiosyncrasies in the rules before selecting which type of Roth account to use.
To learn more about strategies for market volatility, visit the Ladin Financial Group website, email Michael(at)ladinfinancialgroup(dot)com or info(at)ladintax(dot)com, or call (305) 444- 4898.
About Ladin Tax and Financial Group:
Ladin Financial Group,  a Registered Investment Advisory firm, focuses on assisting Florida business owners, Baby Boomers and retirees with sound retirement income strategies that work in a tax efficient way. Founder and CEO Michael Ladin is experienced in asset protection, wealth transfers, estate planning, life insurance and premium financing, and is registered in Florida as an Investment Advisor Representative.
The host of Retirement Radio's "Strategies for Financial Success" on NewsTalk 610 WIOD, Saturdays at 7 a.m., Sundays at 1 p.m. Ladin co-authored the best-selling book, "The Ultimate Success Guide," with Brian Tracy. He has been quoted in major publications, such as the Wall Street Journal and USA Today.
Since beginning his career in the financial services and insurance business more than 20 years ago, Ladin has built a reputation as a respected public speaker and consultant.
###