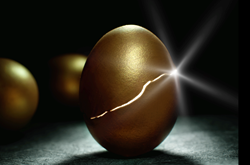 Miami, FL (PRWEB) September 13, 2016
America's retiring Baby Boomers have begun withdrawing their nest egg cash from tax-deferred retirement savings plans like 401(k)s and IRAs at a rate that exceeds incoming contributions. This epic about-face after decades of steady expansion among retirement savings plan coffers should surprise no one; retirement was inevitable for America's 76 million aging Boomers.
Still, the shift—from the $14 trillion in growth these plans cultivated over the past 40-50 years, to their recent stagnation and decline resulting from sudden and substantial outflow and sluggish inflow—is troubling industry insiders. The potential for consequential volatility and impact on the retirement industry appears to have caught the public sector as well as pockets of the financial industry off guard, despite the fact that this "silver tsunami" has been a crisis in the making for years.
The government is prepared to collect more than $2 trillion in federal tax dollars from Boomer nest egg withdrawals, even if the money comes out at the relatively low marginal income tax rate of 15 percent.
Wealth management and retirement advisor Michael Ladin of Miami-based Ladin Financial Group published a new blog on the phenomenon titled,"Required Minimum Distributions for the Baby Boomer "401(k) Generation" Have Begun: Time to Prepare for a Volatile Ripple Effect?" which examines the inflection point the U.S. retirement industry has reached in the Baby Boomer nest egg chronology.
According to Ladin, as sweeping withdrawals from the 401(k) repository accelerates over the next couple of decades, the market could be facing some turbulence.
An analysis of government data provided by financial information company BrightScope Inc. reports that Boomers withdrew $11.4 billion from tax-deferred savings plans in 2013, one year before assets held by 401(k) plans peaked at $4.6 trillion in the fourth quarter of 2014. According to Ladin, asset managers hope to replace Boomer savings outflows with a new inflow of investment contributions from Millennials. Others in the industry are skeptical, however, as Millennials are generally reputed to be spenders, rather than savers.
"The general consensus in the retirement industry is, Boomer outflows are not likely to be replaced by Millennials, at least not at the rate they need to be offset outflow," Ladin says. "The situation could create some volatility down the road, and we need to be prepared for it."
Ladin sees 2016 as just the tip of the iceberg, as the initial swell of Baby Boomers reached an important milestone on July 1 of this year—the eldest of America's post-war brood born in early 1946 turned 70½--the age at which mandatory required minimum distribution (RMD) withdrawals become compulsory. Following at their heels are the younger Boomers, who will retire at the rate of 10,000 people per day for the next 18 years. They too will be obligated by law to begin mandatory withdrawals from their retirement savings.
Boomers are the first generation to establish self-funded retirement plans around traditional 401(k)s, IRAs, and other tax-deferred savings vehicles. Boomers were introduced to these retirement savings plans in the mid 1970s before the plans became broadly circulated in the 1980s. This system of employee-financed retirement was part of a monolithic shift from the defined pension benefit plans of their parents' generation, to employer-sponsored 401(k) plans, an alternative to costly pensions.
Now the "401(k) generation" is set to collect their hard-earned savings as 2.5 million Boomers reach age 70 this year, according to AARP. And the number of Boomers reaching this milestone birthday will continue to increase, at least for the next 20 years, as more and more post-war babies hit their 60s, 70s, and 80s. According to Tom Sightings, a retirement writer and contributor to U.S. News & World Report, by 2030, the 65-and-up crowd will swell to 72 million —up from 40 million in 2010.
Estimates vary on how long the 401(k) net outflows will last and how extreme they will become. Financial-services research firm Cerulli Associates projects outflows will persist at least until 2019 when retiring Boomers will withdraw an estimated $51.6 billion, according to a December report. J.P. Morgan predicts the trend will last through 2030, with outflows maxing at $40 billion in 2019.
According to Cerulli, Boomer nest egg funds could remain with the retirement industry if they move 401(k) funds to IRAs upon retirement. Contributions into IRAs are anticipated to reach $546 billion by 2019, up from $205 billion in 2003.
Some industry insiders speculate that Millennials will reverse the outflow pattern, although others don't anticipate Millennials becoming the savers they will need to be any time soon.
But even if Millennial motivation to save improves, it will take some time for the 401(k) decumulation trend to begin reversing. Redemptions in the industry are going to get worse for the next 10 – 20 years, according to Ladin.
To learn more about retirement trends, visit the Ladin Financial Group website, email Michael(at)ladinfinancialgroup(dot)com or info(at)ladintax(dot)com, or call (305) 444- 4898.
About Ladin Tax and Financial Group:
Ladin Financial Group, a Registered Investment Advisory firm, focuses on assisting Florida business owners, Baby Boomers and retirees with sound retirement income strategies that work in a tax efficient way. Founder and CEO Michael Ladin is experienced in asset protection, wealth transfers, estate planning life insurance and premium financing, and is registered in Florida as an Investment Advisor Representative.
The host of Retirement Radio's "Strategies for Financial Success" on NewsTalk 610 WIOD, Saturdays at 7 a.m., Sundays at 1 p.m. Ladin co-authored the best-selling book, "The Ultimate Success Guide," with Brian Tracy. He has been quoted in major publications, such as the Wall Street Journal and USA Today.
Since beginning his career in the financial services and insurance business more than 20 years ago, Ladin has built a reputation as a respected public speaker and consultant.
###