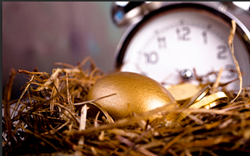 Baby boomers are on a tight deadline to replenish their retirement funds.
MIAMI (PRWEB) April 28, 2016
Ladin Financial Group is offering comprehensive advice for pre-retirees between the ages of 50 and 65 who are concerned that their nest egg savings aren't enough to provide for them throughout their retirement years. In a new blog titled, "The Home Stretch to Retirement—Spend the Final Years of Employment to Play "Catch-up" on Your Retirement Savings Fund," Ladin offers strategies for maximizing savings opportunities while boomers are still in the workforce.
Ladin, a wealth management and retirement planning specialist, says his focus on helping baby boomers take action to pad their retirement accounts through a variety of strategies and options available to people 50 and over stems, in part, from the 2008 economic downturn that left millions of baby boomers with empty—or near empty—nest eggs, savings they had accumulated over 30-40 years of work. Hit by heavy losses in a highly volatile stock market, plummeting home values and uncertain job security, it could take years to rebuild nest eggs after such immense losses. Unfortunately, time is not something baby boomers have enough of, and the race is on to pad their retirement funds as much as possible as the clock ticks down.
"Baby boomers are on a tight deadline to replenish their retirement funds," Ladin says. "When you think about the fact that stock market declines cost retirement accounts between $1.6 trillion and $2 trillion—18.3 percent of their value—between 2008 and 2009 alone, and individual 401(k) participants' average losses ranged from 7.2 percent to 11.2 percent in the first nine months of 2008, you can see that these heavy losses disproportionately affected baby boomers because of the fact that they have had less time to recover before retirement."
However, Ladin says there are some strategies available to people age 50 and over to maximize savings vehicles and even return their nest eggs to healthier levels in time to have the retirement they've envisioned.
Ladin says that the goal is to have a balanced portfolio that reflects the individual's risk tolerance when it comes to investing in stocks. Ladin generally advises clients 50 and over to begin reducing their exposure to stocks as they approach retirement and look into more conservative and safe investment and savings options, as well as insurance products like fixed indexed annuities. One strategy for people 59-1/2 might be to roll over their 401(k) into a retirement income annuity to reduce some of the risk in their portfolio and establish a guaranteed income stream for retirement.
"I help my clients find more ways to stash cash away to fund their retirement, whether in workplace plans like 401(k)s, IRAs, or other savings and investment vehicles," he says. "It makes sense to set aside as much money as possible during the last 10 – 15 years—or less if you're older than 55—leading up to retirement if it means having the income stream and security necessary to support you after you've left the workplace."
According to Ladin's blog, there are some great options that boomers over 50 have available to them for maximizing savings opportunities.
While tax laws may restrict how much money an individual can direct to a workplace savings plan or IRA each year, once they reach age 50, there's more flexibility. Provisions in the tax code allow for "catch-up" contributions to these types of tax-advantaged savings plans. Assuming the individual earned sufficient income, folks age 50 and older can contribute:

Up to $23,000 annually to a traditional 401(k), 403(b) or most 457 plans. Folks under age 50 are limited to contributions of no more than $17,500 per year.
Up to $14,500 annually to a SIMPLE 401(k) plan (compared to the standard limit of $12,000).
As much as $6,500 per year to an IRA (either traditional or a Roth IRA, or a combination of the two)—$1,000 more than is allowed for individuals under age 50.
The extra several thousand dollars boomers are allowed to invest in tax-deferred savings accounts can make a big difference in their financial disposition upon retirement, especially if they take advantage of these options year-after-year.
Ladin says there are other vehicles available for padding insufficient nest eggs as well, meaning that baby boomers might be able to turn their 2008 losses around in time to retire comfortably if they approach their savings options more aggressively.
Maximizing retirement plan contribution opportunities and other vehicles targeted for retirement funding is crucial for people whose working years are winding down.
"This is your best chance to accumulate wealth and re-achieve your financial goals for retirement," he says.
To learn more about various 50-and-over nest egg saving strategies, visit the Ladin Financial Group website, email Michael(at)ladinfinancialgroup(dot)com or info(at)ladintax(dot)com, or call (305) 444- 4898.
About Ladin Tax and Financial Group:
Ladin Financial Group, a Registered Investment Advisory firm, focuses on assisting Florida business owners, Baby Boomers and retirees with sound retirement income strategies that work in a tax efficient way. Founder and CEO Michael Ladin is experienced in asset protection, wealth transfers, estate planning life insurance and premium financing, and is registered in Florida as an Investment Advisor Representative.
The host of Retirement Radio's "Strategies for Financial Success" on NewsTalk 610 WIOD, Saturdays at 7 a.m., Sundays at 1 p.m. Ladin co-authored the best-selling book, "The Ultimate Success Guide," with Brian Tracy. He has been quoted in major publications, such as the Wall Street Journal and USA Today.
Since beginning his career in the financial services and insurance business more than 20 years ago, Ladin has built a reputation as a respected public speaker and consultant.
###