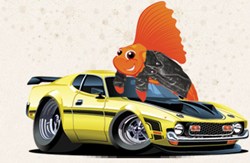 New York, NY (PRWEB) August 13, 2013
In the New York Daily News article "Lady Gaga releases 'Applause' early after online leak prompts fans to start anti-piracy campaign" Zayda Rivera reported on August 12, 2013 that Lady Gaga has released her new single 'Applause' after a song leak resulted in clips of the song circulating the Internet. In response to yet another album release foiled by a song leak, RoadFish.com announces four tips that can help a recording artist prevent the early leak of a song.
While the cause of the leak is still unknown, Lady Gaga is continuing to experience song leaks before the planned release date of her album. On the following day, August 13, 2013, another single was leaked from the album. "The Greatest Thing", a single featuring a duet with Cher, is now out on the Internet despite anti-piracy efforts by Gaga and her fans.
In response to the troubles that Lady Gaga is currently experiencing, RoadFish.com announces a list of four steps recording artists can take to prevent a song leak from happening.
1. Use fingerprint-protected hard drives that are completely secure. Only carry the hard drive in a locked suitcase or other security device.
2. Digitally secure the files and only use protected computers. Put up digital barriers between the files and the hackers.
3. Do not connect computers with the files to the Internet or an internal network.
4. Allow journalists the opportunity to hear the album at closed listening parties, but do not provide advanced copies to the media.
In the wake of Lady Gaga's recent song leak and growing anti-piracy concerns among the music industry, RoadFish.com releases it's list of tips for a recording artist to avoid a song leak. By taking extreme security measures and limiting the availability of the files, recording artists can take steps to prevent a song leak.
About RoadFish.com:
RoadFish.com is an online publication, particularly popular with men in their 30s and 40s who have been successful in the past and wish to embark on new endeavors. Articles on RoadFish.com cover such topics as what's hot, online dating tips, restaurant guides and vacation destination advice.