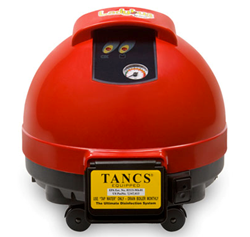 The Ladybug 2200S is considered state of the art in cleaning ability, functionality and design.
Vernon Hills, Illinois (PRWEB) October 22, 2013
LadybugSteamCleaners.com, an authorized dealer that sells Ladybug vapor steam cleaners online and to walk-in customers who visit their Chicago-area showroom, announced today that it has stocked a window squeegee tool for cleaning glass and mirrors.
"Our Ladybug window cleaning tool is designed for use with the Ladybug 2150 vapor steam cleaner, the Ladybug 2200S vapor steam cleaner and the Ladybug XL2300 vapor steam cleaner," says V. K. Dunlop of LadybugSteamCleaner.com. "It's ten inches wide with a smooth rubber squeegee, and is priced at $39.99."
For the professional-grade Ladybug Tekno 2350 vapor steam cleaner, LadybugSteamCleaners.com offers a commercial-grade squeegee, also priced at $39.99.
"Keep your glass clean and streak free with our stainless steel squeegees," says Dunlop. "You'll never go back to a spray bottle and paper towels."
Ladybug squeegees easily attach to the nozzle of a Ladybug steam cleaner, and leave glass clear and streak free in a fraction of the time of paper towels.
Located in Vernon Hills, Illinois, LadybugSteamCleaners.com is moving fast to educate consumers and businesses that finally, there's a feasible, environmentally friendly alternative to chemicals. For more information, call 1-877-840-2977. LadybugSteamCleaners.com is a proud member of the Safer Chemicals, Healthy Families coalition, a nationwide effort to protect families from toxic chemicals. To stay safe and avoid toxic chemicals, keep abreast of the latest news with LadybugSteamCleaners.com's Twitter account, @LadybugSteam.