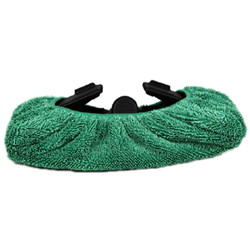 The microfiber bonnet is designed exclusively for our rectangular floor brush.
Vernon Hills, Illinois (PRWEB) November 08, 2013
LadybugSteamCleaners.com, an authorized dealer that sells Ladybug vapor steam cleaners globally online, and to walk-in customers who visit their Chicago-area showroom, announced today that it has stocked a new 12" rectangular microfiber bonnet for use with all Ladybug vapor steam cleaners. The all-new bonnet is distinguishable from the rectangular brush bonnet announced earlier this year by price and lack of a fringed edge.
"LadybugSteamCleaners.com prides itself on offering a range of accessories that will compliment your Ladybug," says V. K. Dunlop of LadybugSteamCleaners.com. "Our all-new green microfiber bonnet is designed exclusively for our rectangular floor brush. While it doesn't feature a blue fringe like the bonnet we announced back in August, both are washable cotton and can be slipped on and off with ease."
The new fringeless bonnet is priced at $4.99.
According to Dunlop, the Ladybug Tekno 2350 vapor steam cleaner is their top seller this autumn. The Tekno cleans and disinfects virtually any surface with only tap water, and features Ladybug's proprietary patented Thermo Accelerated Nano Crystal Sanitation technology (called TANCS®) as standard equipment.
TANCS®-equipped steam cleaners qualify as disinfection devices for the U.S. Environmental Protection Agency (EPA).
"When you unpack a Ladybug Tekno 2350 steam vapor system you immediately notice the yellow sticker on one side that says 'EPA Est. No. 82121-WA-01' in bold letters," says Dunlop. "The yellow sticker tells you in a glance that your Tekno qualifies as a disinfection device for the EPA."
Located in Vernon Hills, Illinois, LadybugSteamCleaners.com is moving fast to educate consumers and businesses that finally, there's a feasible, environmentally friendly alternative to chemicals. For more information, call 1-877-840-2977. LadybugSteamCleaners.com is a proud member of the Safer Chemicals, Healthy Families coalition, a nationwide effort to protect families from toxic chemicals. To stay safe and avoid toxic chemicals, keep abreast of the latest news by following LadybugSteamCleaners.com on Facebook and Twitter.