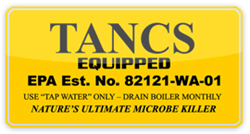 The yellow label tells you in a glance that your Ladybug qualifies as a disinfection device for the EPA.
Lake Forest, IL (PRWEB) July 20, 2013
1-800-GO-VAPOR.com, the world's go-to source for quality built vapor steam cleaners, today announced that customers ordering a Ladybug vapor steam cleaner will now receive a complimentary instructional DVD video in addition to a printed manual.
"The goal of the Ladybug instructional DVD is to get the user up and running with their new Ladybug as quickly as possible," says a 1-800-GO-VAPOR.com spokesperson.
Combining exceptional cleaning and sanitizing power with compact size, all Ladybug vapor steam cleaners feature a non-pressurized water reservoir for non-stop cleaning. Unlike many vapor steam cleaners on the market today, there is no need to shutdown any Ladybug to refill it with water.
In addition to continuous fill, Ladybug offers other advanced design features that separate their steam cleaners from the pack—such as Ladybug's proprietary patented TANCS® technology.
TANCS®-equipped steam cleaners proudly display a label that says "EPA Est. No. 82121-WA-01" in bold letters. The yellow label tells you in a glance that your Ladybug qualifies as a disinfection device for the EPA, making it especially suitable for schools, hotels, restaurants, supermarkets, casinos, contract cleaning, offices and public houses, and other setting where the highest level of cleanliness is required.
"Looking for a steam vapor cleaner?" asks 1-800-GO-VAPOR.com. "Spend some time on our website. Read our Ladybug steam cleaner reviews. Find the system that's preferred by people like you."
Located in Lake Forest, Illinois, 1-800-GO-VAPOR.com is moving fast to educate consumers and businesses that finally, there's a feasible, environmentally friendly alternative to chemicals. The company markets Reliable, Vapamore and Ladybug steam cleaners. For more information, call 1-800-468-2767. 1-800-GO-VAPOR.com is a proud member of the Safer Chemicals, Healthy Families coalition, a nationwide effort to protect families from toxic chemicals. To stay safe and avoid toxic chemicals, keep abreast of the latest news with 1-800-GO-VAPOR.com's Twitter account, @1800GOVAPOR.