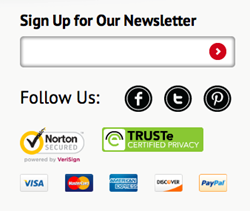 Vernon Hills, Illinois (PRWEB) November 05, 2013
LadybugSteamCleaners.com, a company whose mission is to make cleaning faster, safer and easier for consumers everywhere, announced today the availability of a new newsletter that keeps consumers up to date with LadybugSteamCleaners.com news and special offers.
"All of us at LadybugSteamCleaners.com are excited about the opportunity to keep shoppers up to date with the latest information on our incredible vapor steam cleaners," says V. K. Dunlop of LadybugSteamCleaners.com. "Just enter your email address on our website and have the latest news, special offers and product announcements delivered right to your inbox."
Shoppers that don't know about vapor steam cleaners, and want to, can watch a Ladybug steam cleaner review recently posted on YouTube by clicking here: https://www.youtube.com/watch?v=7NyAk55YpRI.
Located in Vernon Hills, Illinois, LadybugSteamCleaners.com is moving fast to educate consumers and businesses that finally, there's a feasible, environmentally friendly alternative to chemicals. For more information, call 1-877-840-2977. LadybugSteamCleaners.com is a proud member of the Safer Chemicals, Healthy Families coalition, a nationwide effort to protect families from toxic chemicals. To stay safe and avoid toxic chemicals, keep abreast of the latest news with LadybugSteamCleaners.com's Twitter account, @LadybugSteam.