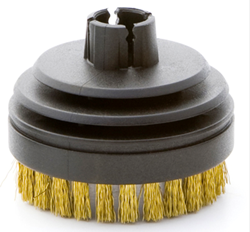 Strong and durable round brush is ideal for cleaning hard surfaces with less scratching than a stainless steel brush.
Vernon Hills, Illinois (PRWEB) November 03, 2013
LadybugSteamCleaners.com, an authorized global dealer that sells Ladybug vapor steam cleaners online and to walk-in customers that visit their Chicago-area showroom, announced today that it has stocked a round 55mm brass bristle brush for use with the Ladybug Tekno 2350 steam cleaner.
"Our 55mm brass brush is perfect for cleaning hard surfaces like barbeque grill grates," says V. K. Dunlop of LadybugSteamCleaners.com. "The brass bristles scratch less than a stainless steel brush."
The Ladybug 55mm brass brush is priced at $14.99.
Consumers that don't know about steam cleaners, and want to, can watch a Ladybug steam cleaner review recently posted on YouTube by clicking here: https://www.youtube.com/watch?v=7NyAk55YpRI.
Located in Vernon Hills, Illinois, LadybugSteamCleaners.com is moving fast to educate consumers and businesses that finally, there's a feasible, environmentally friendly alternative to chemicals. For more information, call 1-877-840-2977. LadybugSteamCleaners.com is a proud member of the Safer Chemicals, Healthy Families coalition, a nationwide effort to protect families from toxic chemicals. To stay safe and avoid toxic chemicals, keep abreast of the latest news with LadybugSteamCleaners.com's Twitter account, @LadybugSteam.