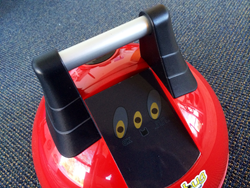 We're excited for our customers to experience the new 2200S with ergonomic handle.
Vernon Hills, IL (PRWEB) March 21, 2014
LadybugSteamCleaners.com announced the previously announced new Ladybug 2200S steam cleaner arrived at LadybugSteamCleaners.com's Chicago-area warehouse yesterday and is available starting today for shipping to customers. The new 2200S still has all the things everyone loved about the older model inside, adding a new ergonomic handle outside for easier lifting. It features a powerful 1500 watt motor, pressure up to 60 psi, a non-pressurized water reservoir with a low water indicator light, a 15-foot power cord and a range of attachments for cleaning just about everything around the house—without chemicals.
"We're excited for our customers to experience the new 2200S with ergonomic handle," says V. K. Dunlop of LadybugSteamCleaners.com. "We think Ladybug fans will love how easily they can carry it up and down stairs, and we're working hard to get as many as we can in our warehouse for same business day shipping to our customers."
The Ladybug 2200S will be available starting today for $1,349.00. Customers can upgrade to TANCS® for an additional $250.00.
Steam cleaners equipped with Ladybug's proprietary patented Thermo Accelerated Nano Crystal Sanitation technology, called TANCS®, qualify as disinfection devices for the U.S. Environmental Protection Agency (EPA Est. No. 82121-WA-01).
Consumers that don't know about cleaning with steam in place of chemicals linked to asthma and other respiratory illnesses, and want to, can watch a Ladybug steam cleaner review uploaded to YouTube by Clean My Space, the largest cleaning community on the Web.
Located in Vernon Hills, Illinois, LadybugSteamCleaners.com is moving fast to educate consumers and businesses that finally, there's a feasible, environmentally friendly alternative to chemicals. For more information, call 1-877-840-2977. LadybugSteamCleaners.com is a proud member of the Safer Chemicals, Healthy Families coalition, a nationwide effort to protect families from toxic chemicals. To stay safe and avoid toxic chemicals, keep abreast of the latest news with LadybugSteamCleaners.com's Twitter account, @LadybugSteam.