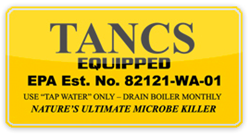 The yellow label tells you in a glance that your Ladybug qualifies as a disinfection device for the EPA.
Vernon Hills, IL (PRWEB) October 18, 2013
LadybugSteamCleaners.com, an Illinois company that offers Ladybug vapor steam cleaners online to consumers and businesses across the globe, and to walk-in customers who visit their Vernon Hills showroom, today announced that it intends to actively market the Ladybug Tekno 2350 steam vapor system to dental hygiene schools.
"Choosing and using a surface disinfectant in dentistry can be very confusing," says V. K. Dunlop of LadybugSteamCleaners.com. "Not all are as effective as you might think. And many are toxic."
The Ladybug Tekno 2350 steam cleaner with Ladybug's proprietary patented Thermo Accelerated Nano Crystal Sanitation technology (called TANCS®) is scientifically proven to produce better results than traditional disinfectants—using ordinary tap water.
"The Tekno qualifies as a disinfection device for the U.S. Environmental Protection Agency, making it more suitable than traditional hard-surface disinfectants for many healthcare settings such as dental hygienist schools," says Dunlop.
According to Dunlop, future dental hygienists are not always informed that traditional disinfectants are highly toxic and contain potentially cancer-causing chemicals that threaten their health. The simplified water-only protocol of the Tekno 2350 cleans, disinfects and deodorizes almost any surface without chemicals.
TANCS®-equipped steam cleaners proudly display a label that says "EPA Est. No. 82121-WA-01" in bold letters. The yellow label tells you in a glance that your Ladybug qualifies as a disinfection device for the EPA."
Located in Vernon Hills, Illinois, LadybugSteamCleaners.com is moving fast to educate consumers and businesses that finally, there's a feasible, environmentally friendly alternative to chemicals. For more information, call 1-877-840-2977. LadybugSteamCleaners.com is a proud member of the Safer Chemicals, Healthy Families coalition, a nationwide effort to protect families from toxic chemicals. To stay safe and avoid toxic chemicals, keep abreast of the latest news with LadybugSteamCleaners.com's Twitter account, @LadybugSteam.